A New Leader Meets Many to Listen and Learn about the Road Ahead
---
UO president Karl Scholz has spent his first ninety days engaging Ducks at a whirlwind of events
By Matt Cooper •Photos and video by University Communications • October 4, 2023
2 min read
The University of Oregon's nineteenth president has been in office for ninety days. But you'll forgive Karl Scholz if it feels like ninety seconds.
Scholz, a distinguished economist who took office July 1 after a long and notable career at the University of Wisconsin-Madison, has wasted no time embracing the UO community. He's been on the go and on hand at scores of university events locally and statewide as he begins to chart a course for the institution.
Throughout this academic year, Scholz will engage in priority-setting discussions with faculty, staff, the university senate, the Associated Students of the University of Oregon, and others. As you'll see in the following gallery, he has already cast a wide net in garnering input on the UO—he's connected with students, academic leaders, the broader university community, and stakeholders across the state and beyond.
"I come to this position with a deep commitment to public higher education, and I have ideas of how the university can set goals and priorities for the future," Scholz says. "But my intent now is to really listen to campus constituents and stakeholders and learn more about what they want from the university and what they aspire for it to be."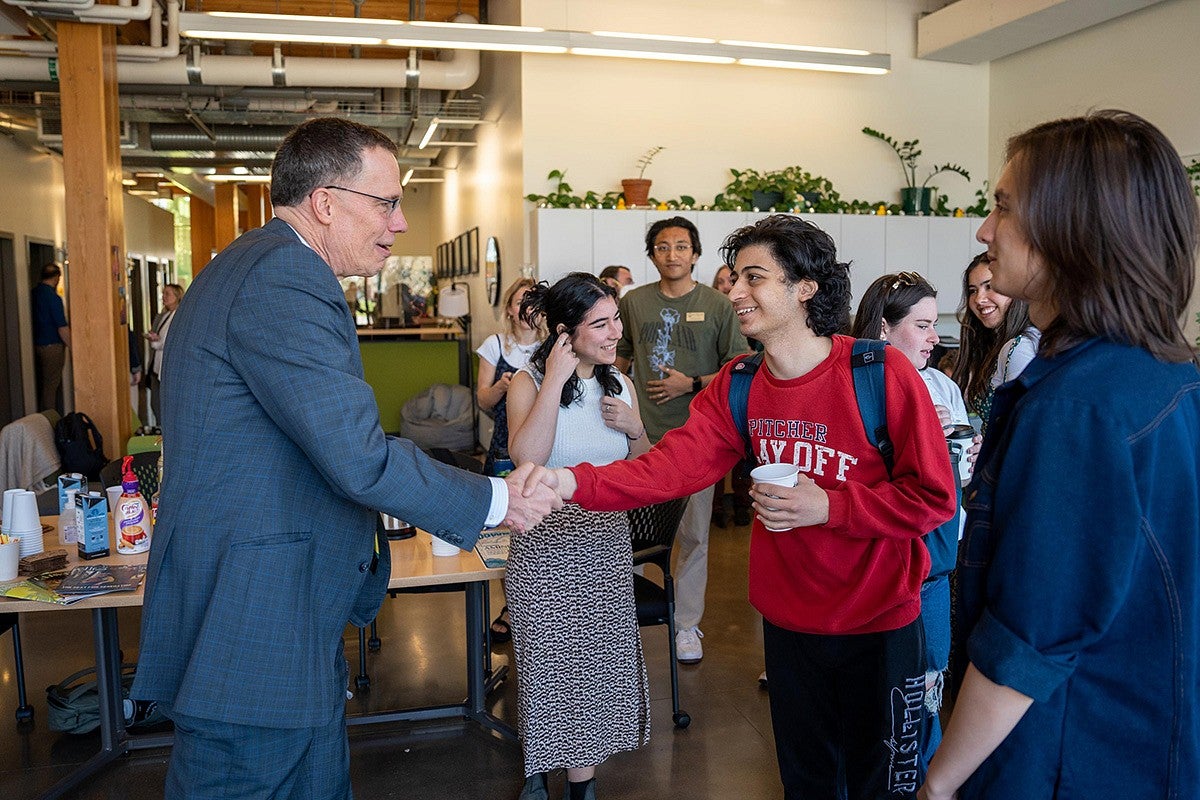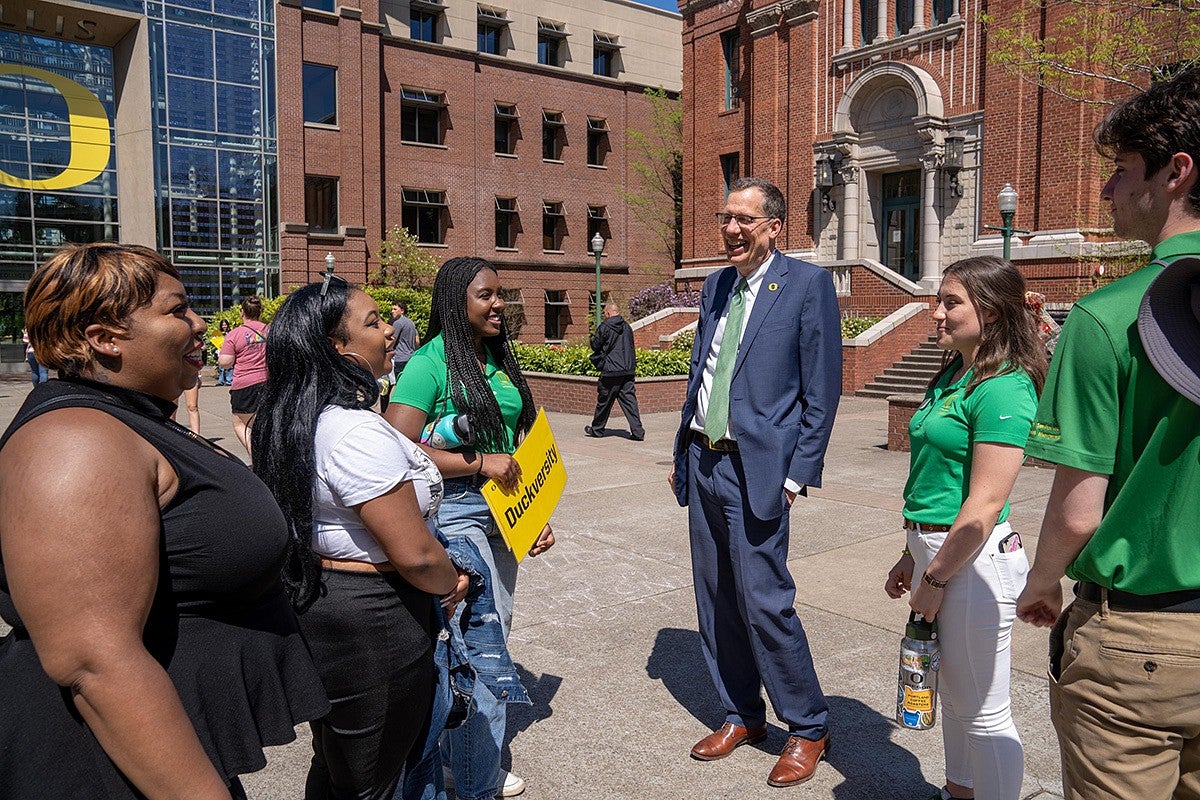 In visits with students at the ASUO and across the Eugene campus, Scholz has connected with a group for whom, he says, he is dedicated to providing "a world-class education."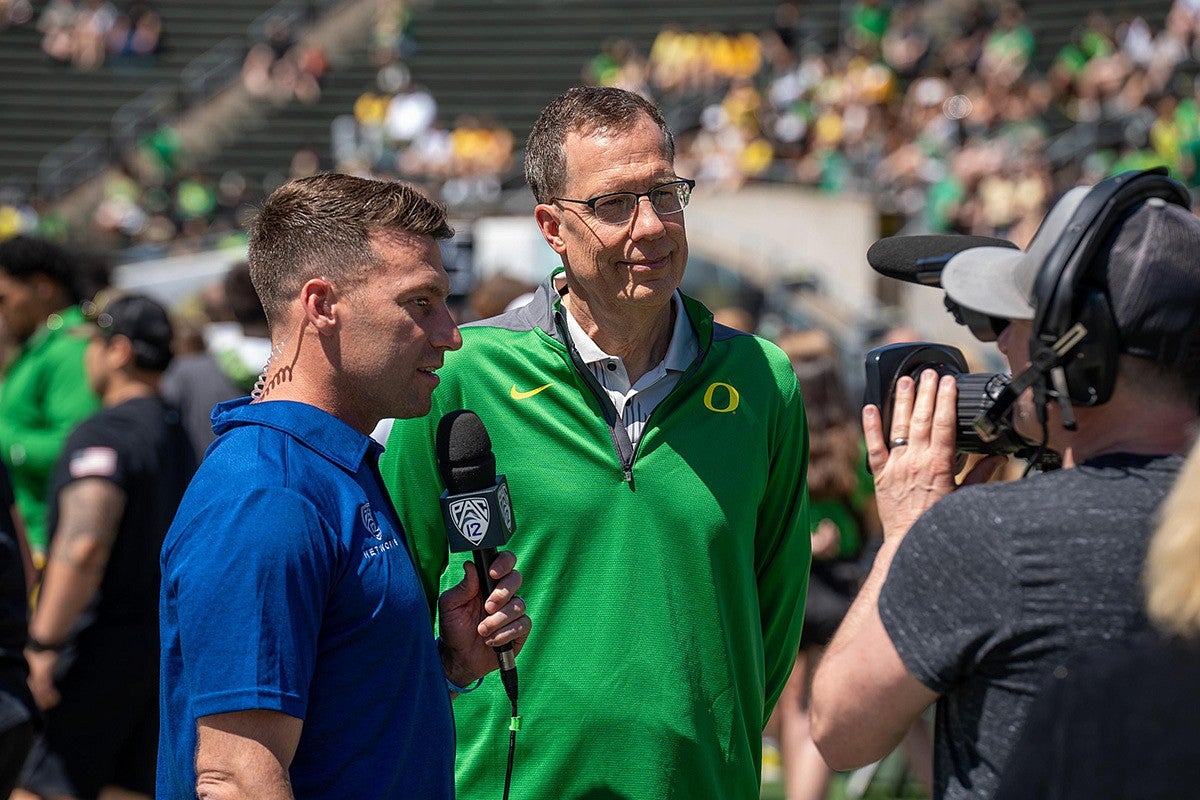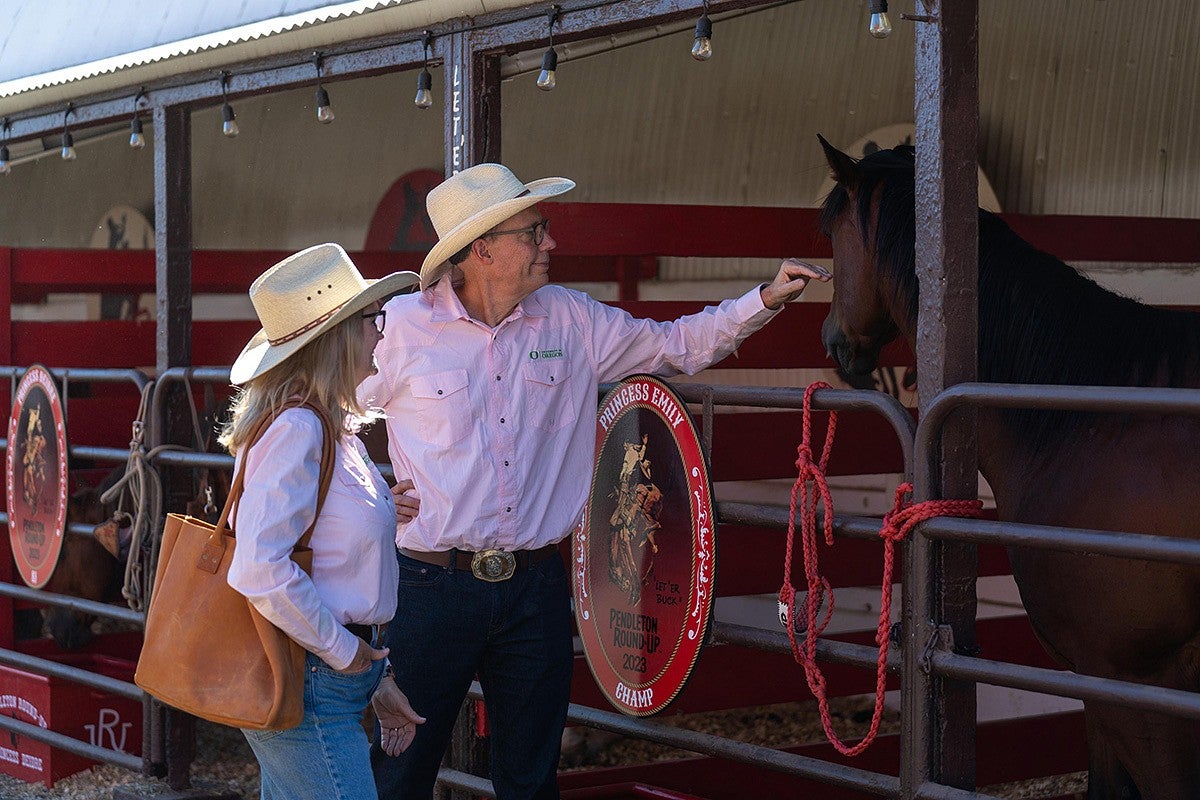 An avid sports fan, the new president has already been in the stands at UO athletic events. He's also dressed up—for convocation—and, with Melissa, his wife—dressed down for the Pendleton Round-Up, connecting with his inner cowboy.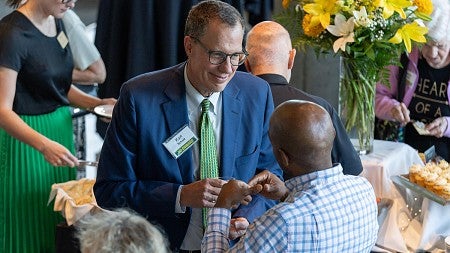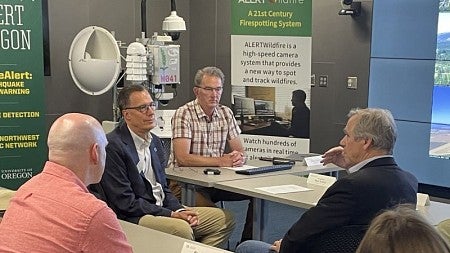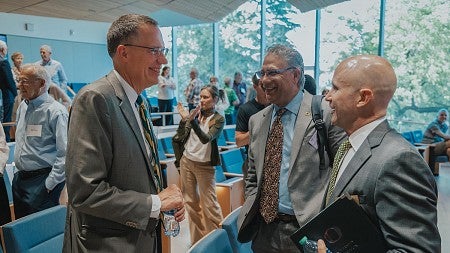 In summer meet-and-greets and other events, Scholz has started priority-setting with friends, including alumnus Nate Jackson (left); academics such as Professor Doug Toomey, director of the Oregon Hazards Lab (middle, center), and US Sen. Jeff Merkley (middle, right); and UO leaders Anshuman "A. R." Razdan and Robert Guldberg (right).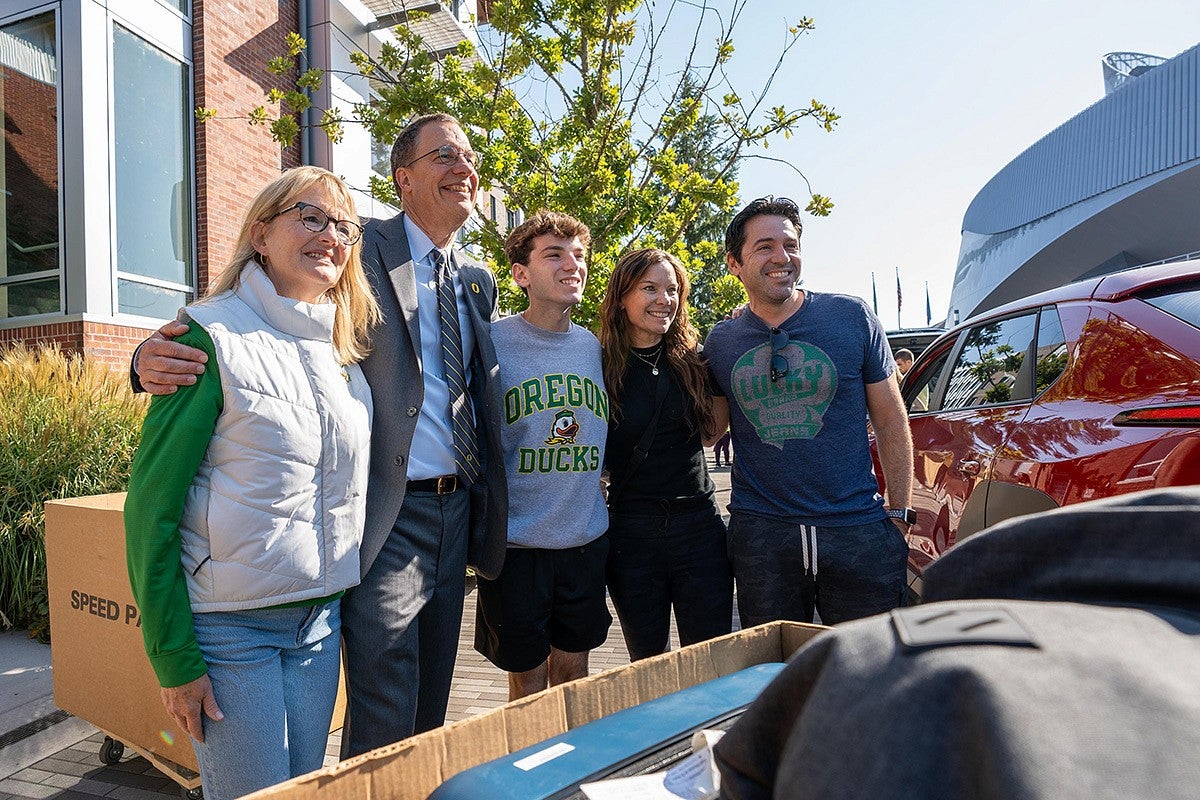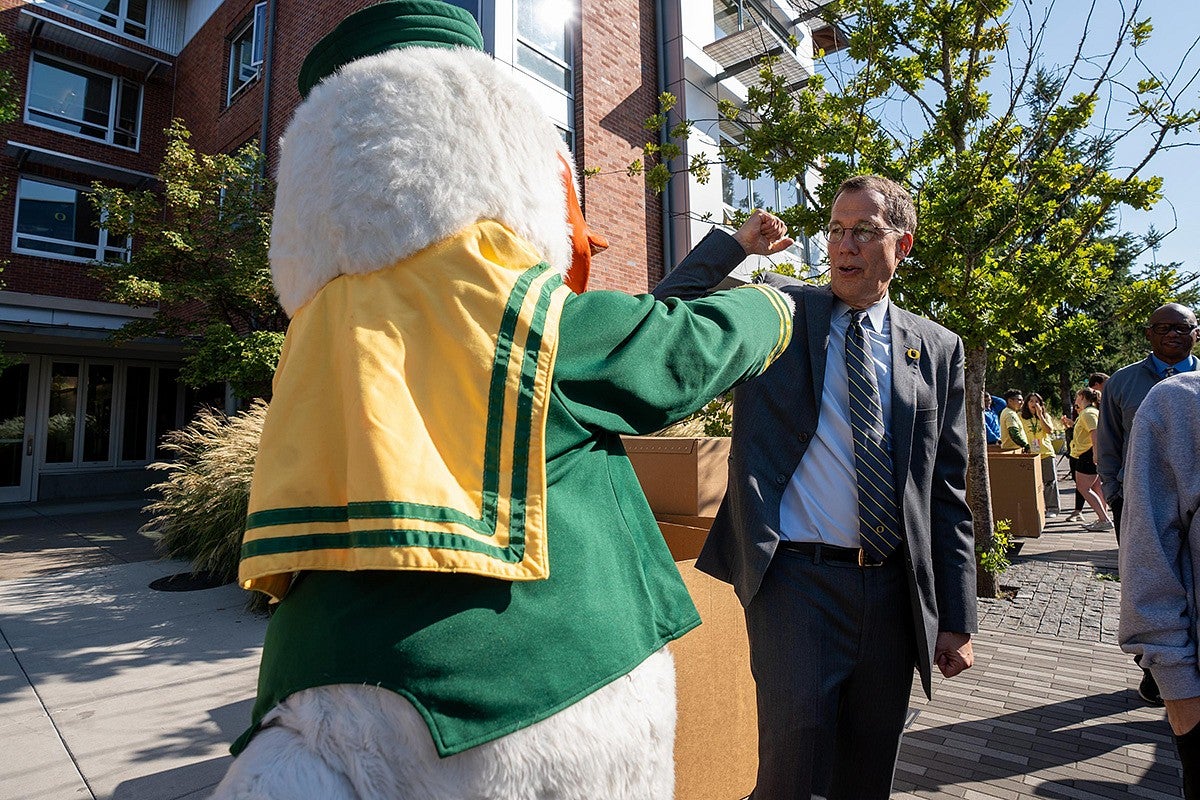 September's Unpack the Quack found Scholz and Melissa, his wife, helping new students move in, and the university president has already earned the respect of the UO's favorite feathered fan.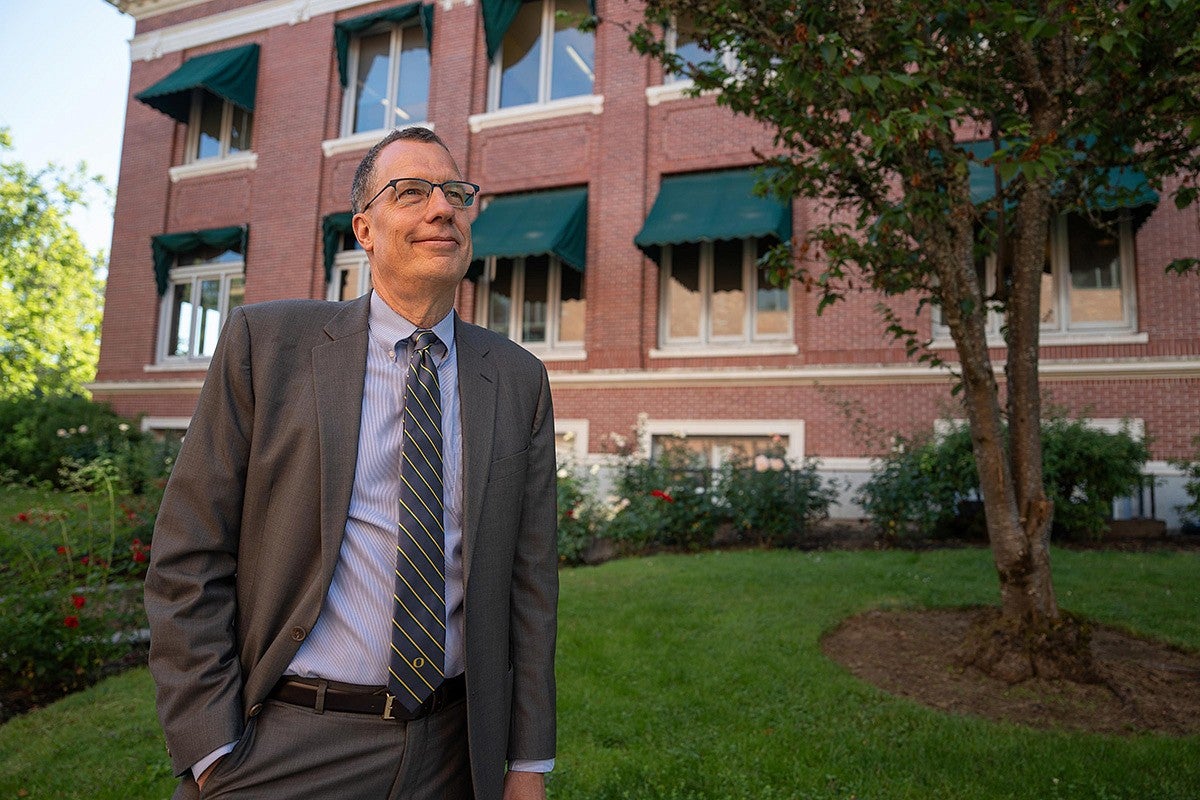 In guiding Oregon onward, Scholz seeks to tap the university's dedication to educational excellence, curiosity-driven scholarship, and service to the state and broader society as a catalyst for ideas, innovation, and prosperity.
Matt Cooper is managing editor for Oregon Quarterly.