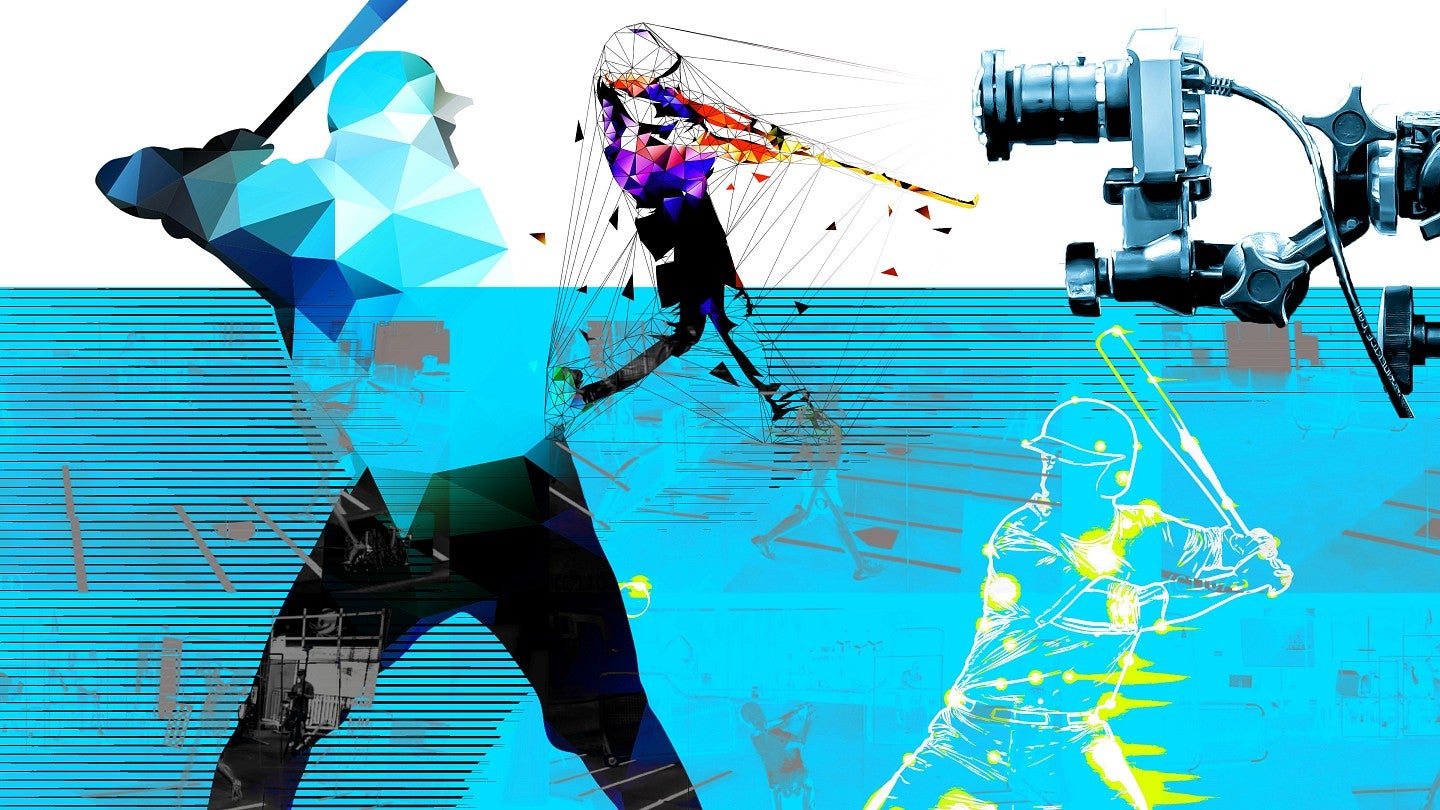 Team Captures Motion to Unleash Performance
Athletics and academics team up to explore performance and advance sports science
By Ed Dorsch • Video by Tusu Mahmud • Illustration by David Gill • July 12, 2023
5 min read
The grandstands of PK Park are empty, but the sound of bats hitting baseballs rings out over the spring breeze.
Jaime Santos, a University of Oregon human physiology major, is working hard. While he doesn't play for Oregon, he could be one of the team's most valuable Ducks.
As part of his sports science internship with the College of Arts and Sciences' Department of Human Physiology, the senior leads a team of students setting up eight small cameras on big tripods. They're connected to ethernet cables that sprawl across the turf and converge in a box connected to a gaming computer.
The new Theia3D Markerless Motion Capture system, funded by Athletics and the Wu Tsai Human Performance Alliance at Oregon, may be unremarkable in appearance. But it's state of the art. Using multiple cameras and artificial intelligence, the system generates biomechanical data in three dimensions to measure the movement of student-athletes.
For a student, using the latest technology to study athletes is a great opportunity. For the university, it's symbolic of a bold strategy uniting athletics, research, technology, data, and human performance.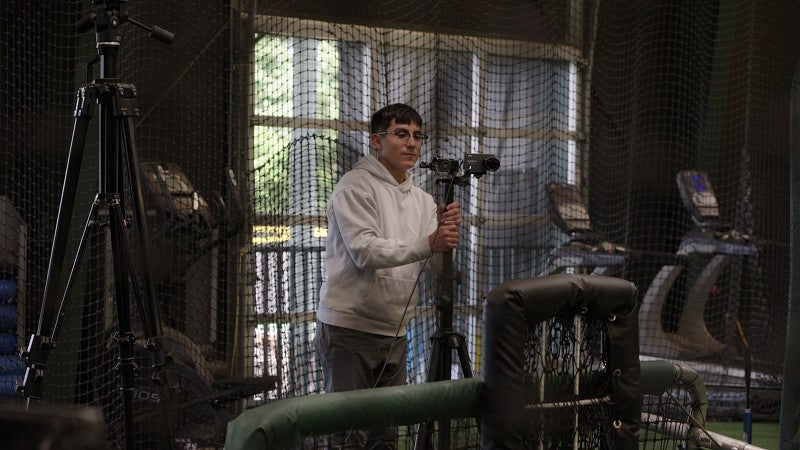 The science of sport
The university has identified sport and wellness research as a strength with great potential for cross-campus collaboration. This effort includes scientific studies that will improve lives—not just for athletes, but all of us.
It also includes the Wu Tsai Human Performance Alliance at Oregon, a $220 million research initiative in its third year. The alliance is providing resources and connecting scientists and institutions to create a collaborative research network. The global initiative launched in 2021 with a gift from the Joe and Clara Tsai Foundation.
A founding partner, the UO is one of six institutions in this effort to study peak physical performance to help everyone lead healthier, more active lives. The alliance is based in the Phil and Penny Knight Campus for Accelerating Scientific Impact.
"Our goal is to give coaches and athletes better information to make better decisions," says Jordan Troester, director of performance and sports science for Athletics. In collaboration with academics, Troester oversees twenty to thirty interns including Santos as part of his work with all the UO teams.
Troester is also a principal investigator with the alliance. His offices and research facilities are within the Marcus Mariota Sports Performance Center, the UO student-athlete wellness, sports science, and training center that opened in 2016.
As a tight end at the College of William and Mary, Troester was drawn to one aspect of the football experience that most of his teammates disdained: physical training.
After a bachelor's degree in kinesiology, Troester earned his PhD in sports science from the University of Technology Sydney. Before coming to the UO, he served as a performance coach for Australian rugby teams and the Vegas Golden Knights, of the National Hockey League.
Moving pictures
Since October 2022, when he first unboxed the components of the UO's new motion-capture system, Santos has been getting it up and running for Troester. It uses artificial intelligence to combine high-resolution images from synchronized cameras capturing 240 frames per second and generate moving, three-dimensional images of athletes.
On screen, these digital exoskeletons throw balls, jump, swing bats, pitch—anything the athlete does in the camera's eye. The system spits out volumes of biomechanical data about torque, force, three-dimensional joint angles, and velocity. For example, in addition to the changing angles of a pitcher's elbow, it can determine the speed of the ball the moment it leaves their hand.
Most motion capture systems require the subjects being filmed to wear special suits with reflective markers. Markerless systems record athletes wearing standard gear, which means they can move naturally. It also means zero setup time for players—important during games and practices.
After the initial testing is complete, Troester will use the system to study pitching and batting for softball and baseball, then capture baseline data from every UO student-athlete and use it for research on various sports.
The end game: improve performance and reduce injuries.
"It gives us a lot," says Santos. "The software outputs metrics for every joint in the body. We're working with the coaching staff to break it down to two to five relevant points."
From far behind to the forefront
Santos came to Eugene from the San Francisco Bay Area because of the human physiology program. In high school, he was captain of his track-and-field, cross-country, and soccer teams. He graduated in June and is now an intern studying the effects of exercise on cancer patients at Oregon Health & Science University's Knight Cancer Institute in Portland.
Opportunities for students like him to participate in research will help them start careers in sports science, a field where the US lags behind, says Troester. Through internships, research opportunities, and collaborations with academics, Troester and his colleagues hope to establish the UO as a leader in this arena.
Troester is a scientist, but he's also a liaison, diplomat, and translator. Working closely with coaches and trainers, he identifies problems that need to be solved and presents solutions based on scientific evidence—in practical ways that dovetail with rigorous practice and competition schedules.
In Australia, Troester says, nearly every professional team has a relationship with a university. Pro teams fund graduate fellowships and it's not uncommon to have more than one PhD candidate on staff. They work full time for the team, but have their own specific research focus and access to university resources.
"There's plenty of great research in exercise physiology and biomechanics in the US," Troester says. "But applied sports science programs that offer the knowledge and skills to work in team sports? They just don't exist here."
Because of this, many sports scientists hired by professional teams and universities in the US are trained in Australia or Europe.
"We've identified an opportunity for the University of Oregon, given its academic capacities, brand, and athletic department," says Troester. "We want to put those pieces together and build a revolutionary academic and professional development model."
Data scientists are like another player on the team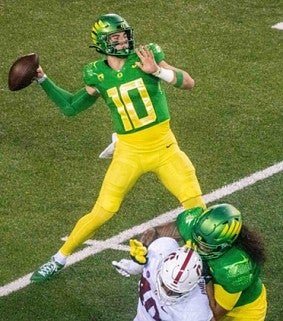 Faculty members in data science are helping athletics tap into the power of all this data, Troester says. For example, in a Wu Tsai Alliance project studying hamstring injury risks, Troester is collaborating with Jake Searcy, research assistant professor of data science in the College of Arts and Sciences. This study collects data from UO football players wearing small sensors in their shoulder pads or in vests during games.
These wearables connect to satellites (or, if they're indoors, to positional radio frequency beacons). Instantaneous position readings provide information about velocity, distance run, and acceleration.
Compared to markerless motion capture, it's old school. Researchers are moving away from wearables toward cameras and artificial intelligence. Portable, mobile, and automated, the new tech works anywhere and requires no special gear for players. It also generates even more information per second.
Accumulating more data at faster speeds is great, Troester says. But storing and analyzing it presents new challenges.
"It's an incredible opportunity for a data scientist," Searcy adds. "Every day we are getting new and richer data. It's up to us to make sure that data leads to better outcomes for athletes, and that's going to take new algorithms, tools, and most importantly a cross-disciplinary team working together."
Troester is quick to add that the latest technology doesn't mean much without a clearly defined problem to solve and questions to answer. Regardless of how powerful the tools are (and the volumes of data they gather), the research must be useful to coaches, trainers, and athletes—and, ultimately, anyone who wants to stay healthy and active.
 
"Think of your mechanic buddy who loves to open the hood and figure out what's causing that knocking sound in your car. We're like that, but with the human body."
—Mike Hahn
Uniting academics and athletics
Troester says collaborating with faculty helps him break outside of the box.
"In athletics, we have a lot going on. It's really easy to get tunnel vision and focus on what you're doing," he adds. "Same in academics. They have their research. Across a lot of universities, there are great people working on similar projects but not crossing over."
What's the secret sauce at the University of Oregon?
"I think it comes down to leadership," Troester says. "Also, collaboration is at the heart of our personal ethos."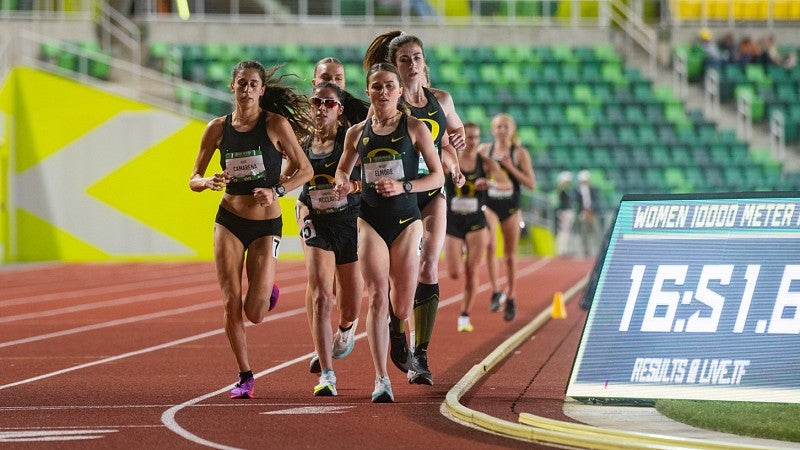 Human physiology professor Mike Hahn agrees. Hahn is the director of the UO Bowerman Sports Science Center and associate director of the Wu Tsai Alliance at Oregon.
Academic researchers think big thoughts—and they should, says Hahn. But the people who work directly with athletes and coaches, like Troester, ask the best questions.
He points to a recent study of stress fractures led by the UO and including the University of Southern California, University of Colorado Boulder, and Stanford University. It was a discussion between Hahn and running coaches that spurred this project.
"I and my students can dream up lots of research questions that are intriguing, but not always practical," Hahn says. "But the practitioners working directly with the athletes consistently come up with interesting research questions to stimulate the academic discussion."
Other research efforts funded by the Wu Tsai initiative include a study of ACL injury risks and fatigue in soccer players. Using cameras, force plates, and athletics' turf facility, Hahn's team is exploring how shoes with different cleat shapes could help.
"People like me get up every day excited to solve problems," Hahn says. "Think of your mechanic buddy who loves to open the hood and figure out what's causing that knocking sound in your car. We're like that, but with the human body."
Sports scientists who embrace this pragmatic, problem-solving approach—who can gather information and analyze it in useful ways—are in high demand, he adds.
"The UO is a shining example of how athletics and academics can, and should, work together," Hahn says. "I think this will continue well into the future."
Ed Dorsch BA '94 (English, sociology), MA '99 (journalism), is a staff writer for University Communications.
Tusu Mahmud Class of '25, is an architecture major and student worker for University Communications.