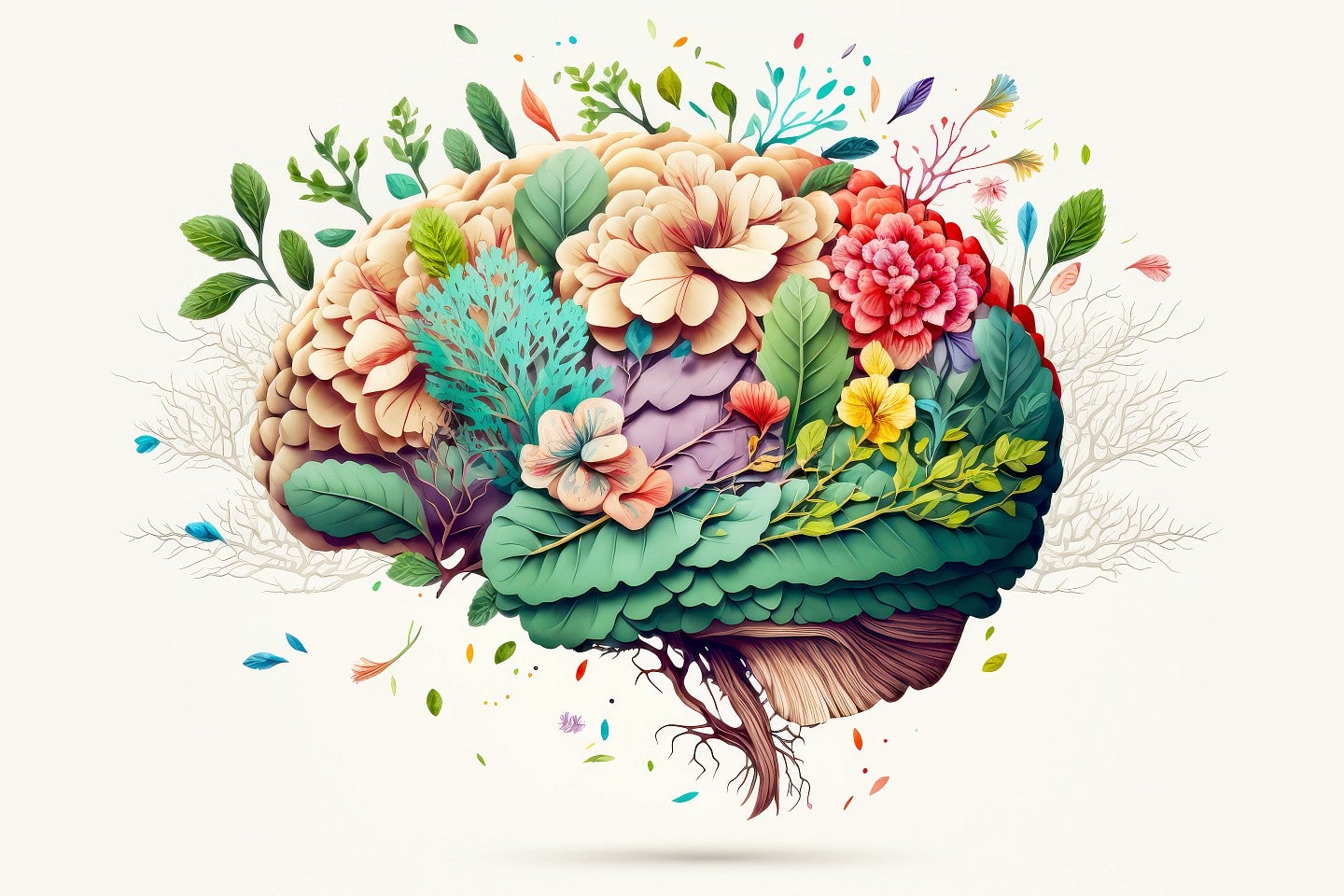 Happiness 101
In the classroom and outside it, neuroscientist David McCormick is leading a mindfulness revolution
By Henry Houston • August 21, 2023
6 min read
For several years around 2014, David McCormick spent a few weeks each summer teaching neuroscience to Buddhist monks in Tibetan monasteries in India. He brought back lessons in the nature of happiness.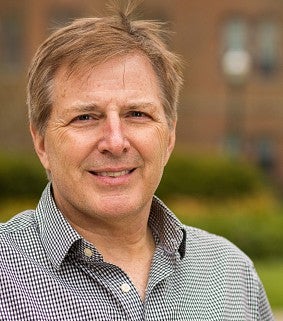 "Even though people in rural India have, most of the time, far fewer material goods than we do—and certainly monks have very few material possessions—they appear to be much happier," says McCormick, a Presidential Chair and director of the Institute of Neuroscience at the University of Oregon. "They're much calmer, peaceful, connected, loving, kind."
Each time McCormick returned to the US, he was jarred by the reintroduction to American attitudes. Despite this country's advantages, he says—the abundance of food, clean hot or cold water with the turn of a faucet handle, reliable electricity—"our minds are a living hell."
"We've convinced ourselves somehow that life is terrible and it's getting worse," says McCormick. There are certainly tremendous problems, he adds, "but we've lost the appreciation of life and a connection with the world around us."
McCormick is now at the heart of a booming happiness enterprise at the UO, aiming to restore those connections and inspire students to examine how their minds mold reality. His science-based course, Happiness: A Neuroscience and Psychology Perspective, is one of the most popular electives on campus. 
"A course like this is really needed—and that's the most common comment I receive from students," McCormick says. "They love the material. They love learning new ways to de-stress, to change their mindsets, to be happier and healthier. They love opening up and talking about how to engage in life with meaning and purpose. They tell their friends. Most of the tremendous growth has been word-of-mouth. This is not a required class for any major."
"Students love opening up and talking about how to engage in life with meaning and purpose."
With a three-year, $900,000 grant from the Tiny Blue Dot Foundation, McCormick and a team of researchers will study the impact the course and mindfulness have on students' brains, with the goal of sharing the curriculum with the world. He also hopes to introduce the wider campus community to what he teaches in the classroom.
Letting bad thoughts pass like clouds overhead
It isn't the first time that happiness is the focus of a course.
In 2018, Yale professor Laurie Santos drew national attention for filling lecture halls and auditoriums with a course on the science of happiness. McCormick, a former colleague of Santos's at Yale, was inspired to offer a similar course at the UO to address the worsening mental crisis in the US.  
"The rates of depression have been going up since World War II—it's not a new thing, it's not just an internet thing," says McCormick, a professor of biology and neuroscience in the College of Arts and Sciences. "We are materialistically, measurably in a better place, but psychologically we are suffering more and more. We have to ask ourselves: why?"
About six hundred students are enrolled for the fall term. In the course, McCormick encourages students to examine how thoughts affect one's outlook. They explore meditation, journaling, health, and other tools to improve how they perceive the world around them.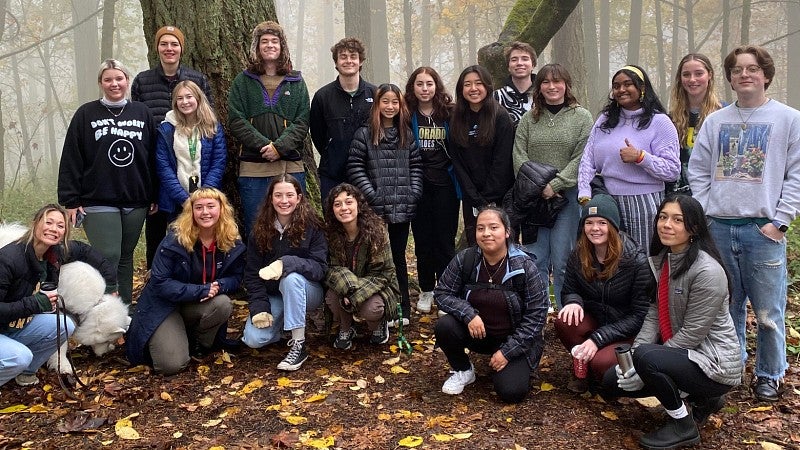 Over the years, McCormick has seen many students with poor self-esteem, thinking of themselves as not smart, not capable—the list goes on. McCormick asks them: if you don't have time to shower in the morning, do you think other people notice?
"They all say yes," he says. "But then I ask them, 'If someone else doesn't shower, do you have that thought about them?' Almost no one does. It's just the way our mind works. We think all these negative things about ourselves but almost no one else thinks them about us."
Students incorporate ideas learned in the course toward leading a happier life. For the final project, some step away from social media for a month, or start exercising, or engage in mindfulness meditation—alone or with friends or family. Students design their own projects and many try something new, such as a month of daily meditation.
"The question we are addressing here is, 'How does mindfulness affect how our brains engage with feelings of fear, stress, and a sense of being overwhelmed?'"
Mindfulness is a way to acknowledge your thoughts, but there's a misconception that you have to stop completely thinking, says Liz Riebe, BA '22 (global studies). She met McCormick atop Spencer Butte one day in 2022, a chance encounter that led to her joining his Center for the Science and Practice of Well-Being and the Institute of Neuroscience, where she's a research assistant.
"The common metaphor is that your awareness is the sky and your thoughts are the clouds," she says. "Your thoughts are not attached to you because you think them. You have to let your thoughts pass by, like clouds in the sky."
Psychology major Luna Dare was so inspired by the class she started the Positive Psychology Club and introduced her family to mindfulness. For them, she developed questions to encourage being consciously "in the present."
"Be curious about your thoughts and follow them: why am I thinking this? What's going on?" she says. Not everyone in the family experienced a huge improvement in happiness, but as McCormick does for hundreds of students each term, Dare introduced a practice that her family can use in the future.
Catching collegiates at a critical time
With the support of the Tiny Blue Dot Foundation, McCormick and colleagues will study how the brain is influenced by taking his course in conjunction with mindfulness practice or daily journaling.
McCormick, a biologist, collaborated with Elliot Berkman, a psychology professor and dean of natural sciences at the college, illustrating the interdisciplinary nature of neuroscience.
"We know quite a bit about the neuroscience of this topic from the straightforward, 'This is your brain on mindfulness' types of studies," Berkman says. "But the question we are addressing here is, 'How does mindfulness affect how our brains engage with feelings of fear, stress, and a sense of being overwhelmed?'"
The third team leader, Megan Lipsett, a PhD student in Berkman's lab, is one of the few practitioners in Lane County certified to teach mindfulness-based stress reduction.
College-aged students are at a critical window because they're in a developmental process of identity formation, where habits become embedded while they're also experiencing high levels of stress. "When we have centers like the one that David is starting up, there are opportunities to really interface with the community," Lipsett says. "We can make an impact in the Eugene community in ways that reach outside of those walls."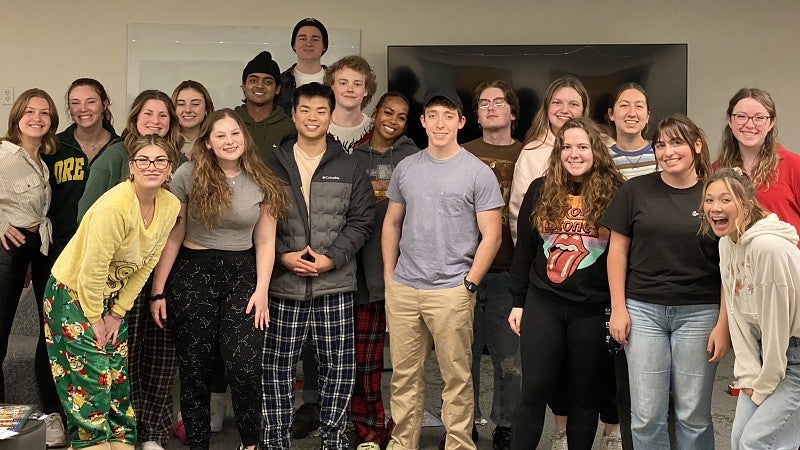 Make your mind a happy home
McCormick also plans to offer the UO community access to ways to change how they look at the world.
Grant money will support McCormick's center to organize events, retreats, and discounted mindfulness-based stress reduction workshops. He'll also host speakers, starting November 2 with Stanford neurobiologist Andrew Huberman, who runs the popular Huberman Lab podcast.
Engaging with people is McCormick's mission, whether he's in the classroom, at the psychology club where he serves as a faculty advisor, or atop Spencer Butte, with his dog Sasha by his side.
"We're trying to get people to be more aware, to live deliberately," McCormick says. "To understand what a well-lived life is and do it purposefully. I want students to take home this simple message: you spend a lifetime in your mind—make it a nice place to be."
Henry Houston, MA '17 (international studies), is an information representative in the College of Arts and Sciences.