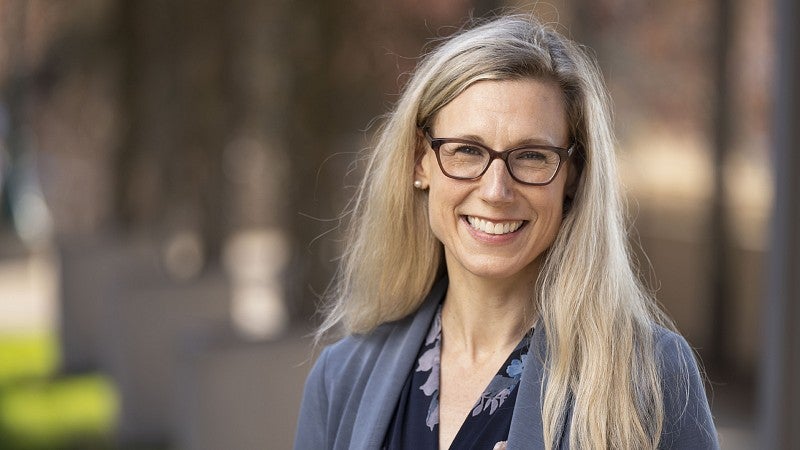 Schools are Key to Health Promotion
Through faculty and programs, the College of Education improves not just children's education, but their well-being
By Laura Lee McIntyre • Photo by Chris Larsen • July 12, 2023
3 min read
Children spend many of their waking hours in school, and teachers are important in shaping their long-term outcomes.
Although we often think of public schools as places for teaching and learning in subjects such as reading and math, they can also be important in improving the health and well-being of students.
A research review from the University of Oregon College of Education's HEDCO Institute for Evidence-Based Educational Practice suggests that schools are key in tackling youth depression with prevention and intervention programs.
Emily Tanner-Smith, HEDCO Institute director and Thomson Professor, and her faculty team review the literature in a rapid and systematic way to produce practical information that school leaders can use to inform their decisions.
The HEDCO Institute has also examined culturally specific depression prevention programs to better understand the gaps in research. The work of the HEDCO Institute helps identify the evidence for prevention and intervention practices and guides school personnel in making decisions to address student health and well-being.
Prevention Science faculty members are national and international leaders in understanding factors that promote positive outcomes for youth and risks that are associated with negative outcomes. Beth Stormshak, professor and Philip H. Knight Chair, has spent decades developing the Family Check-Up, a tool that schools can use to support positive parenting, healthy youth behavior (sleep, screen time, physical activity, and family meal times), and positive home-school communication.
With funding from the US Department of Education Institute of Education Sciences, Professor Stormshak is investigating the use of the Family Check-Up Online to promote positive behavioral health outcomes for middle school youth in the wake of the COVID-19 pandemic. This work is timely as youth are experiencing mental health problems at record levels.
As the College of Education, our partnerships with schools and community agencies are critical to the impact of our work. Jen Doty, associate professor in the Department of Counseling Psychology and Human Services, focuses on promoting healthy use of technology through empowering parents to maintain positive relationships with their child, set limits, engage in clear communication, and promote healthy online environments. Professor Doty, although new to Oregon, is already creating a large network of school district partners interested in this work. Through conversations with parents, youth, and schools, she is tackling issues such as the impact of screen time, social media, and cyberbullying on youth mental and behavioral health.  
"I remain committed to the notion that schools serve children—not just children's education."
When schools close, we see a real impact on children's health and well-being. The school closures associated with the pandemic had short-term impacts on children, including loss of learning time, access to supportive adults and peers, and loss of school meals and physical education. Although the short-term impacts are evident, the long-term impacts are yet to be fully understood. My lab, along with UO colleague and research professor Dave DeGarmo, is investigating the long-term impact of school closures on youth behavioral well-being. Findings will have implications for practice and policy.  
Schools hold promise and possibility for improving the health and well-being of students. Health services such as school nurses, vision and hearing screenings, and mental health intervention are available through many schools. Prioritizing school-based health programs reduces stigma associated with mental health care and barriers to access. In a sense, schools can function as a one-stop shop for communities, particularly rural ones where specialized services are often not available.
Although schools may embrace the idea of educating the "whole child," this primary-care approach may be in jeopardy as funds are limited and special programs and services are often the first to be cut. Further complicating the issue, highly qualified professionals and specialists are difficult to find.
Yet I remain committed to the notion that schools serve children—not just children's education—and colleges of education have a responsibility to prepare professionals to serve the myriad needs of children, families, communities, and schools. At the University of Oregon, our educator preparation programs, Prevention Science program, and work with the new Ballmer Institute for Children's Behavioral Health make the vision of school-based health promotion attainable.
Laura Lee McIntyre is dean of the College of Education and Castle-McIntosh-Knight Professor of Education.