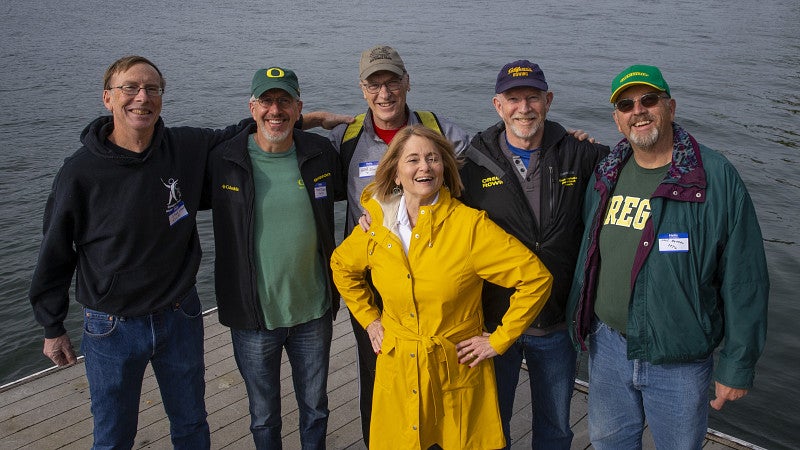 Letters to the Editor Autumn 2022
Victoria Brown, first female coxswain of the Pac-8 conference, and kudos to Oregon Quarterly from across generations
Photo by Chris Pietsch • October 5, 2022
2 min read
On the Water, Breaking Ground
The 
Oregon Quarterly
 editor who chose to run a picture of Oregon rowers at Dexter Lake in the spring issue would probably be surprised at the historical symmetry of this selection. Fifty years ago in April, the Ducks' 1972 varsity crew team appeared in a different national publication. The team took a stand against discrimination and supported Victoria Brown as the first female coxswain of the Pac-8 conference (above, photo by Chris Pietsch of the
Register-Guard
).
University of Washington coach Dick Erickson had demanded Oregon use a male coxswain [to race Washington]. Erickson didn't care that Wendell Basye, [UO law professor and Pac-8 faculty representative], had declared Victoria eligible. He didn't care that Victoria had already piloted the Ducks to victory over Seattle University.
Oregon coach Don Costello asked the varsity team for our input, one oarsman at a time. The guys voted 7–1 to support Victoria.
Sports Illustrated and newspapers across the country covered the story. Some reporters were more than a little condescending. But Victoria handled the interviews with grace and had already proved she could do the job on the water.
Then came the passage of Title IX, prohibiting federally funded educational institutions from discriminating against students or employees based on sex, and lots of things changed.  Wow . . . it feels great to be on the right side of history.
Bruce Paul, BS '75 (history)
Leesburg, Virginia
---
Generations of Appreciation
As a loyal Duck and 1972 graduate of the UO School of Journalism and Communication, I just wanted to tell you how proud I am of the extraordinary work you are doing with Oregon Quarterly. My pride in the university goes far beyond my own outstanding experience. My great-grandparents' final resting place is Pioneer Cemetery on campus. My grandmother was a 1913 graduate and my late mother attended as well.
On behalf of all of them, as well as myself, I thank you and congratulate you for a job well done.
Stephen Robinson, BS '72 (journalism)
Olympia, Washington