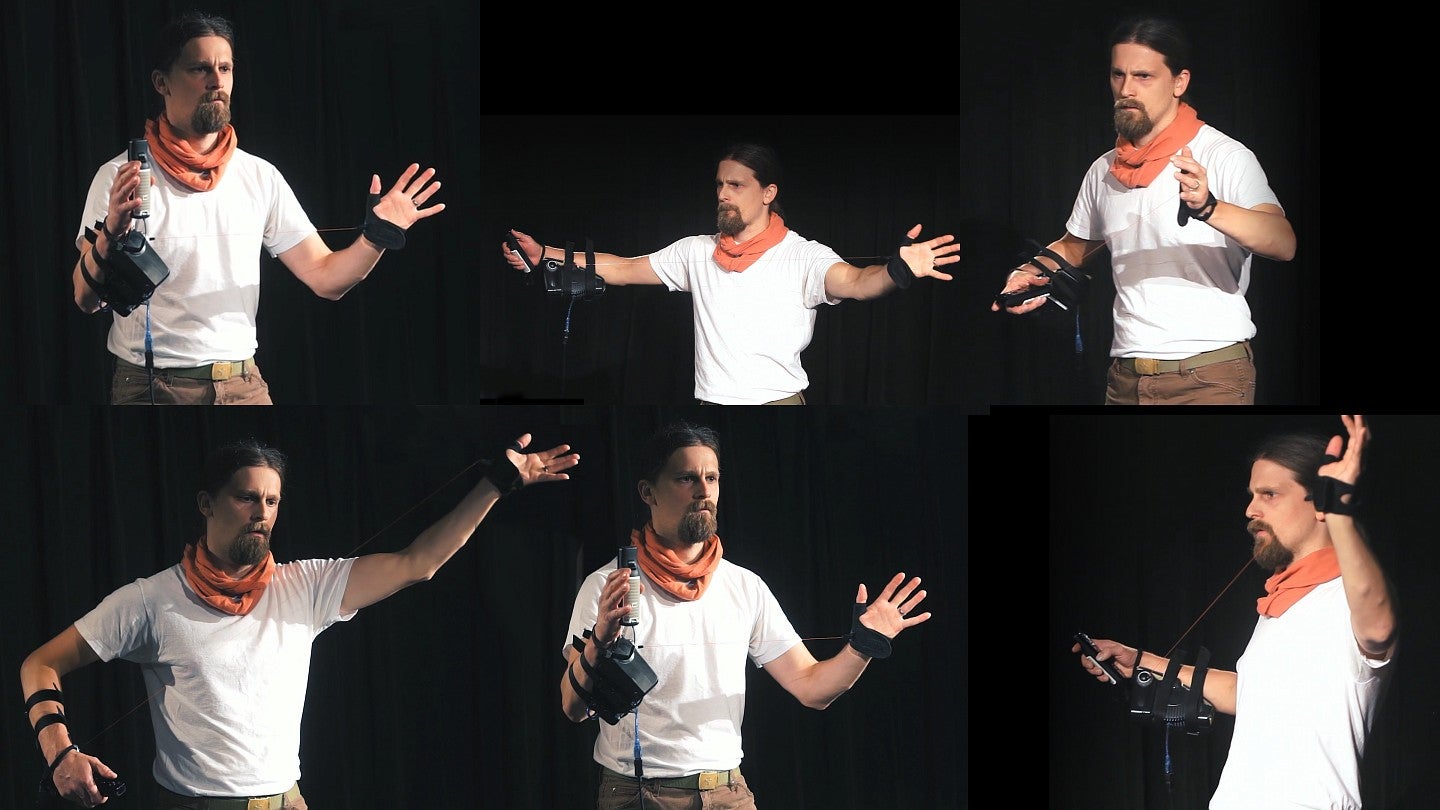 Sound Artist Makes Waves with Multisensory Experiences
Faculty member Jon Bellona creates new sounds, instruments, and perspectives through sonic experimentation
By Ed Dorsch • October 4, 2023
6 min read 
When ten-year-old Jon Bellona heard Nirvana's "Smells Like Teen Spirit," he was hooked on that sound. Bellona was already playing the flute, an instrument chosen for him because that's what his school orchestra needed.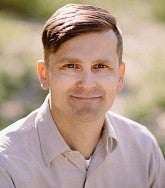 But what he needed was an electric guitar—and a distortion pedal. It took a couple years, but eventually he got his sunburst Fender Squire. He kept practicing (both guitar and flute).
In 1999, he enrolled in Hamilton College in Upstate New York. Bellona majored in music and joined the orchestra as well as his third rock band, the Edgy Citizens. However, it didn't take long for him to realize his true passion was tweaking soundwaves, not performing. 
"Instead of songs, I was interested in manipulating sound with technology," he says. "You can use knobs to make a scream or a whisper, to change the sound in more ways than just plucking out a melody." 
Today, as a senior instructor of audio production at the University of Oregon, he brings his ingenuity for creating with sound to the classrooms and studios of the School of Music and Dance. In addition to teaching and mentoring students, Bellona, an alumnus of the school, conducts research in areas such as music technology and new ways to use sound in education. 
He's also an active sound artist, creating works—often in collaboration with others—that present sound as a medium of expression. As you'll hear and see in the examples that follow, these also involve visuals, moving parts, and audience interaction to create immersive public installations.
---
Wildfire
Bellona was driving from Eugene to Santa Cruz in 2018 when wildfires near Mount Shasta forced a four-hour detour. The extra time—and the smoke-filled sky dotted by a blood-red sun—gave him pause to reflect. How could he use sound to help people understand their relationship to wildfires?
The result: a forty-eight-foot-long array of speakers Bellona built from sustainably sourced alder, pine, sycamore, myrtle wood, and black walnut. The exhibit features the sound of fire sprinting across the speakers at eighty-three miles per hour, the speed flames traveled during one of California's most destructive wildfires. Wildfire was installed in New York in 2019 and 2020 and at the UO earlier this year.
---
City Synth
This fun, community-oriented sound art installation transformed a city into a musical instrument in February 2018. Live video feeds from cameras around Eugene were transmitted to a downtown building lobby where a synthesizer interpreted moving images as sound. Here, visitors watched the video and played with the sounds by using an interface resembling a video game controller.
Each camera employed a different sonification method. For example, one used "blob tracking" to identify the movement of people in a space. Eugene-based art collective Harmonic Laboratory developed the installation; South Eugene High School's robotics team helped with the cameras.
---
Tower of Voices
Bellona's college mentor Sam Pellman designed the sound for this ninety-three-foot-tall tower at the Flight 93 National Memorial near Shanksville, Pennsylvania. The installation features forty chimes, in honor of the forty crew members and passengers who died while stopping terrorists from crashing a hijacked airliner into the White House in 2001.
Pellman died in a bicycle accident in 2017, before the installation was completed. His widow contacted Jon Bellona and classmate Ben Salzman for help. They ensured the architects had Pellman's final plans, updated the acoustic model simulations based on Pellman's pitch design, and gave a presentation at an international symposium in 2018 about Pellman's work.
---
Awash
Commissioned by the High Desert Museum in Bend for its 2019 Water in the West exhibit, this kinetic sound sculpture reflects the ecology of Central Oregon. The installation, which combines amplified field recordings from the region with the sounds of an organ and moving pieces that interact with sonic vibrations, was created by Eugene-based Harmonic Laboratory. Bellona is codirector of the art collective.
An interpretation of the high desert floodplain and natural water cycles, Awash distributes sound energy across 120 speakers. A motorized wheel with twenty holes, each connected to string, moves the spine of the work, which conveys the sounds of wind, water, and motion in waves over visitors' heads.
---
Distance-X
To create a digital musical instrument he calls Distance-X, Bellona chopped a Gametrak video game controller in half and strapped it to his right arm. He uses a Nintendo Wii remote for the button and accelerometer of his creation. These devices change the parameters of the instrument's sound when the player moves their arms. 
Bellona created the instrument to explore connections between body movement and control of the musical landscape. The instrument's name is derived from the way it manipulates sound based on the changing distance between the player's hands. It's also a comment on figurative distances—between composer and performer and the space that technology creates between effort and sound.
---
As a music major at Hamilton College, Bellona marched to the beat of a different drum. Rather than writing down musical notes, he preferred taking notes on guitar pedal settings. During orchestra concerts, he focused on how all the sounds fit together rather than his own flute performances.
Then his mentor, Professor Sam Pellman, showed him how the studio could become an instrument, a tool for artistic expression. Pellman also introduced Bellona to the notion of "sound art"—not songs, but innovative ways to shape sound as an artistic medium. 
Bellona spent hours in the studio helping fellow undergraduates record music. And he experimented by creating audio collages from sound samples. 
For his senior fellowship, he created an exhibition featuring more than two hundred voices in eight-channel surround sound reading all 58,206 names of service members killed during the Vietnam War. It was a preview of the inventive, thought-provoking works he creates today.
After completing his undergraduate degree in 2003, Bellona worked as an assistant engineer in a New York recording studio. But he yearned for a more creative outlet and kept in touch with his college mentor; Pellman told him he should check out the UO School of Music and Dance. So Bellona headed west and enrolled.
In 2011, he completed his master of music in intermedia music technology, then a PhD at the University of Virginia. In 2017, he joined the UO faculty.
Bellona specializes in technology, data-body interactivity, digital musical instruments, and data sonification—the translation of data into sound. He's also codirector of Harmonic Laboratory, an interdisciplinary arts collective based in Eugene. 
For his sound installation, Carbon Feed, Bellona collaborated with John Park, a career instructor with the School of Art + Design and cofounder of Harmonic Laboratory. The piece uses transparent tubes of water and bubbles to demonstrate the greenhouse gas emissions that result from the energy that powers social media servers. The exhibit has been installed thirteen times across the US, including the Smithsonian National Museum of American History in Washington, DC.
Visitors to a 2011 Eugene installation called Human Chimes moved to create sounds that interact with other people in the space.
Collaborating with researchers across the US, Bellona is currently exploring how ocean data presented in new ways that use audio formats (as opposed to visuals) can serve blind and low-vision learners—and open up new avenues to interpreting information. 
Whether as an artist, teacher, or mentor, Bellona says he's always looking for new ideas.
"However, it's also important to stick with your ideas," he adds. "I hope to impart this to my students. You have to know what you want and be willing to fight for your art."
---
Ed Dorsch, BA '94 (English, sociology), MA '99 (journalism), is a staff writer for University Communications.
---