Seven New Scenes at the University of Oregon
From academics to buildings to leadership, the latest attractions underscore the fact that Ducks never stand still
By Tim Christie • Video and photos by University Communications • October 4, 2023
4 min read
As a new academic year gets underway, the University of Oregon is embracing change and moving forward with new leadership, new academic endeavors, and new buildings.
The New BMOC
Karl Scholz took office as the UO's nineteenth president in July, arriving from the University of Wisconsin-Madison, where he served as provost. Scholz is an economist with expertise in household savings, low-wage labor markets, financial barriers to higher education, and bankruptcy laws. In addition to his roles in academia, Scholz served in the George H. W. Bush and Clinton presidential administrations.
Now Open in PDX
To the north, University of Oregon Portland's new campus in northeast Portland partially opens this fall, including the Ballmer Institute for Children's Behavioral Health. The UO purchased the property in June 2022 and will be renovating and remodeling buildings through next year.
In addition to the Ballmer Institute, the Northeast Portland campus will be home this fall for students in law, school psychology, and journalism as well as administrative staff for student life, government and community relations, security, and information technology. Third-year law students were the first to arrive, beginning fall term in August. All other UO Portland programs are scheduled to move to the new campus during the 2024–25 academic year.
Residence Upgrades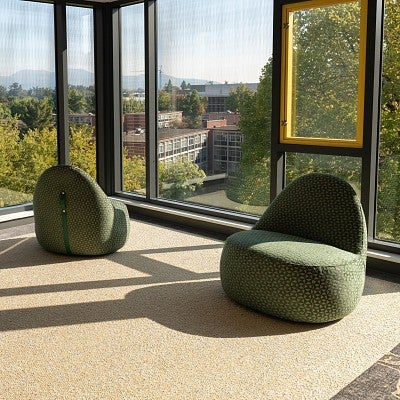 On the building front, two residence halls with a combined 301,250 square feet are opening at the corner of East Fifteenth Avenue and Agate Street, across from Hayward Field in the space formerly occupied by Walton Hall.
The yet-to-be-named complexes, which cost an estimated $121.3 million, are known as buildings B and C for now. The Board of Trustees is expected to approve names for the halls in the coming school year.
Building B, which can house seven hundred to nine hundred students, offers a mix of double and triple rooms, all with attached bathrooms and showers. Resident floors pinwheel around a community lounge which offers study space, areas to hang with friends, and views across the Eugene campus. The ground floor has a community kitchen, a service center, a package delivery hub, and dedicated spaces for Academic Residential Communities, a program in which students with similar interests live and learn together. In addition, the ground floor hosts apartments for the community director and faculty-in-residence.
Building C is an apartment-style residence hall for returning Ducks that offers living options distinct from their first-year experience. Students can live alone or with friends, in options including a micro-studio and quad-unit layouts. Each apartment-style unit includes a private bathroom and kitchen. The complex will house about four hundred students.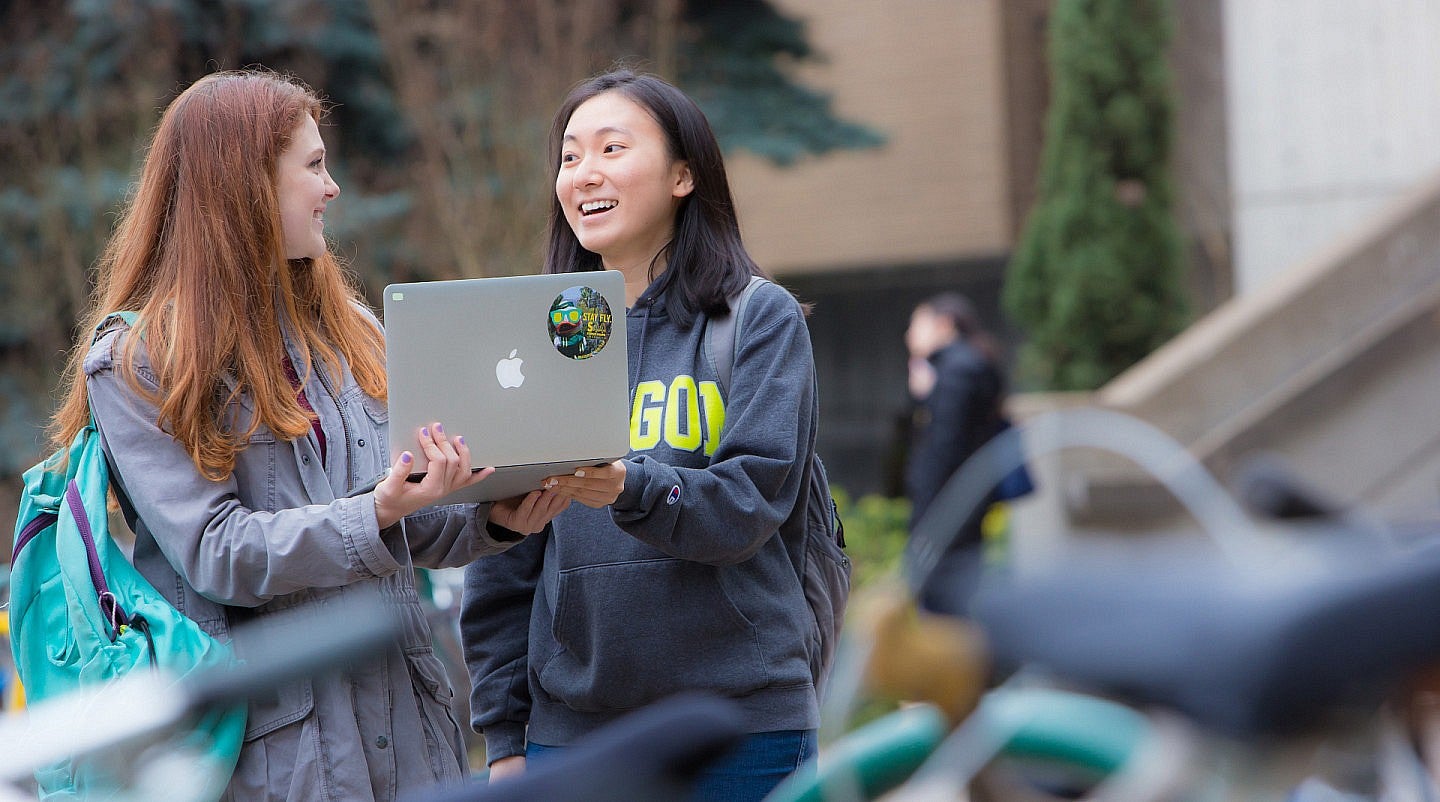 Elevating Computer and Data Sciences
The start of the school year marks the opening of the School of Computer and Data Sciences, housed within the College of Arts and Sciences. The school incorporates existing degree programs in computer science and data science, with a goal of serving two thousand students in current and new undergraduate and graduate programs in the coming years.
Major Changes
The Child Behavioral Health major (BA, BS) at the Ballmer Institute is one of four new majors this fall. The others: Cybersecurity (BS) in the School of Computer and Data Sciences, Environmental Design (BA, BS) in the School of Architecture & Environment, and Popular Music (BA, BS) in the School of Music and Dance. Music Production is a new minor.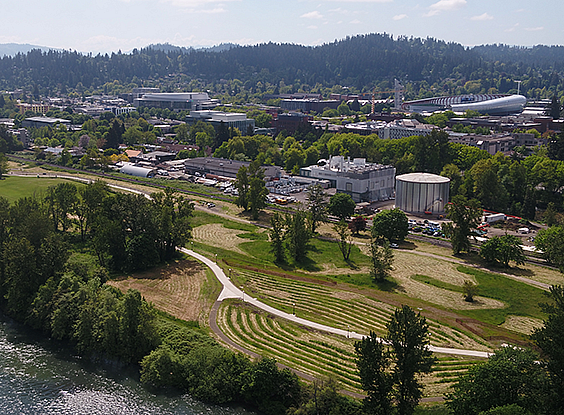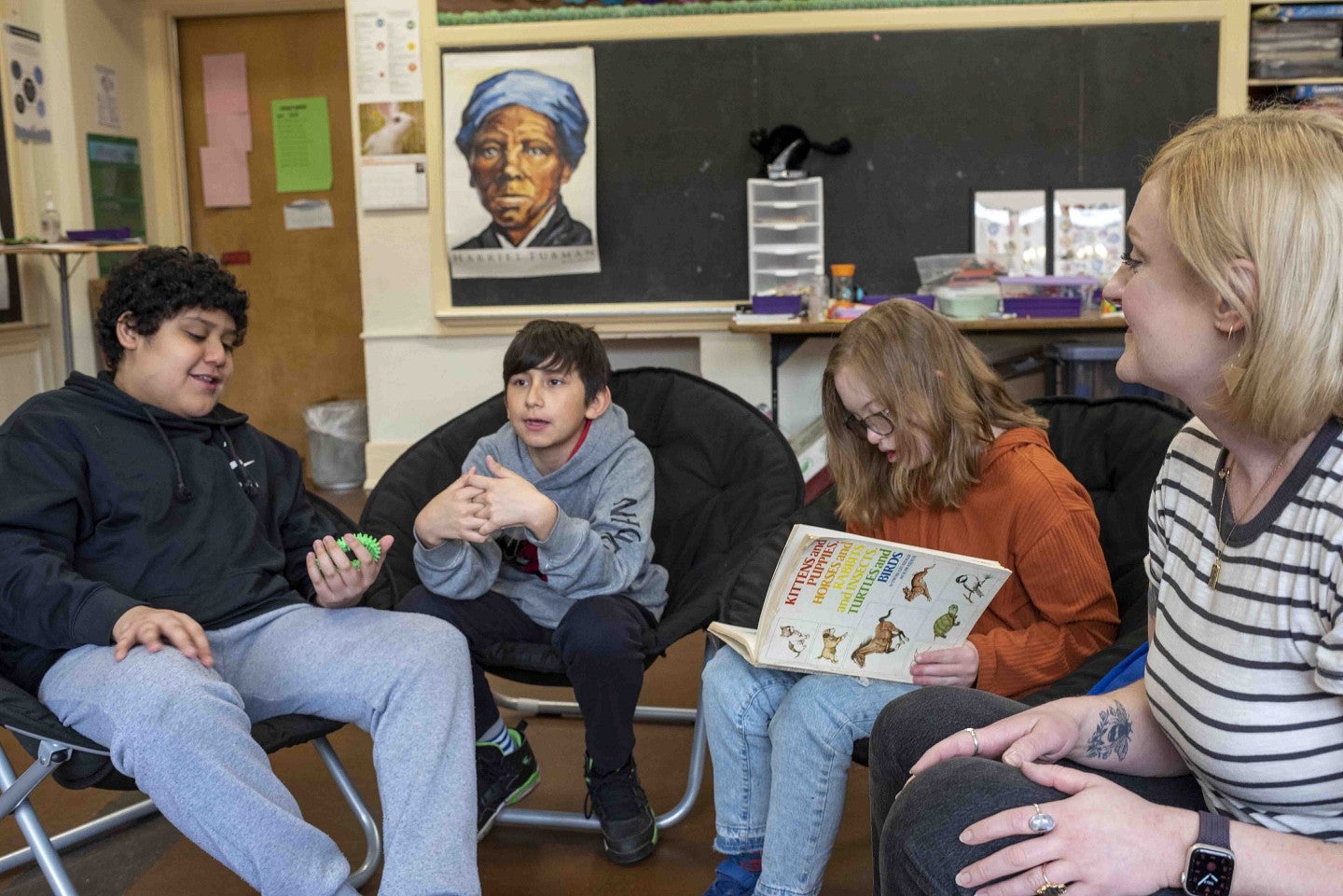 Advanced Degrees
New programs are also available to graduate students: Data-Driven Music Performance and Composition (PhD) in the School of Music and Dance, and Immersive Media Communication (MS) in the School of Journalism and Communication. There is a new graduate specialization in ethnomusicology and a graduate microcredential—a brief program that provides advanced disciplinary knowledge and/or skill development—is being offered in child behavioral health.
Bioengineering Abode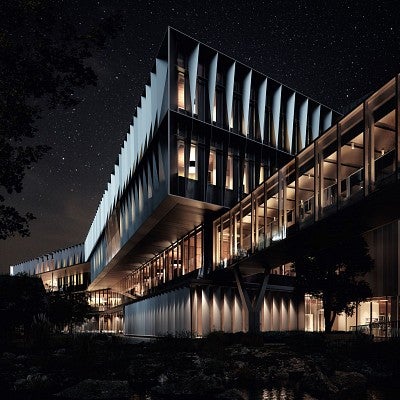 Meanwhile, across Franklin Boulevard, at the Phil and Penny Knight Campus for Accelerating Scientific Impact, work on Building 2 is under way. The 185,000-square-foot, multistory bioengineering and applied science research facility at 1100 Riverfront Parkway will double the Knight Campus's capacity for research and development of biomedical technologies, with additional room for expanding academic programs.
Scheduled to open in 2026, the building will emphasize engineering research and training with amenities that include a makerspace for students to learn, create prototypes, and test inventions. It is expected to house up to twenty-three research groups in bioengineering and medical computational science.
The exterior of Building 2 takes inspiration from the faceted façade of Building 1 and the biomaterial scaffoldings already being created in that building's labs for use in research and to address medical challenges. The new building will include a public café alongside the Millrace, a floating central staircase, an open-air courtyard, and the second of two Papé Family Innovation Centers. These facilities feature modules that startups and other companies can lease for projects.
Building 2 is made possible by a second $500 million gift from Penny and Phil Knight, BBA '59 (accounting), to the campus bearing their names. Additionally, the Oregon legislature has approved $10 million to support new technologies in Building 2.
Tim Christie is a communications generalist in the Office of the Provost.