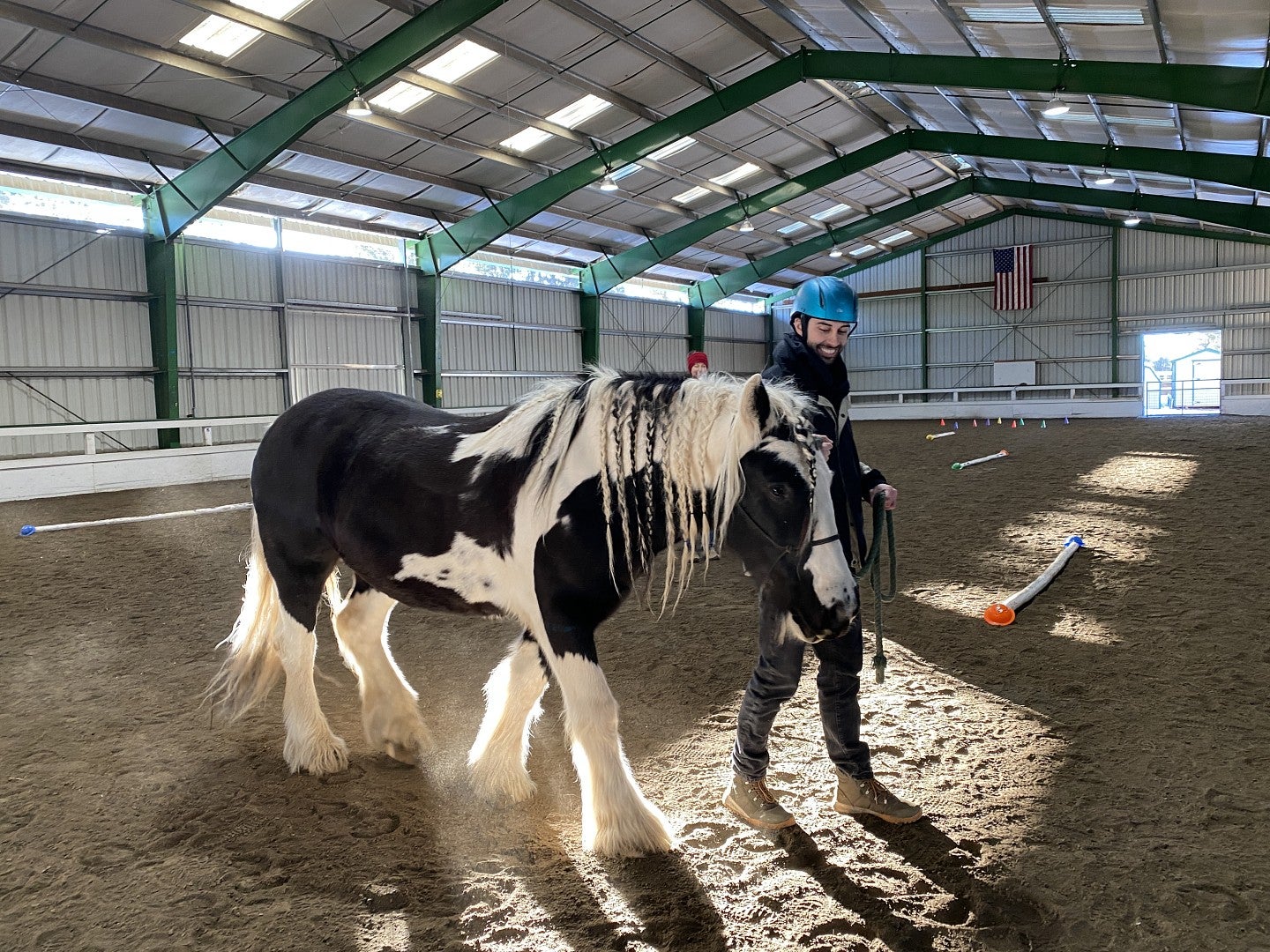 Taking the Reins, Budding Designers Gain Industry Experience
When product design students saw the benefits of equine therapy, they went back to the studio to let their creativity run wild
By Ed Dorsch • Photos courtesy Nate Roese • July 12, 2023
7 min read
Enzo was a shy horse. So shy, recalls Liam Howard, he hid behind a tree while Howard and fourteen other University of Oregon undergraduates toured Healing Reins Equine Assisted Services, a therapeutic horse-riding center near Bend.
On a wintry day in January, the seniors in the College of Design's product design program traveled to the twenty-acre Central Oregon facility where horse-centered therapy is offered to some two hundred clients each week.
Their mission as students in Adaptive Athletes Equine Hippotherapy: create gear to make the work of Healing Reins easier and more effective.
In other words, practice being a product designer.
Healing Reins offers horse-centered therapy for all ages and abilities, developing individualized treatment plans that include horse grooming, trail riding, exercises, and games. Through their adaptive horse-riding program, they help clients with physical, emotional, cognitive, and developmental challenges.
The organization also provides adolescents and young adults in residential treatment programs with equine-assisted learning that promotes life skills such as trust, respect, honesty, and communication. Through hippotherapy, they apply the movement of horses as a treatment tool for physical, occupational, and speech and language therapy.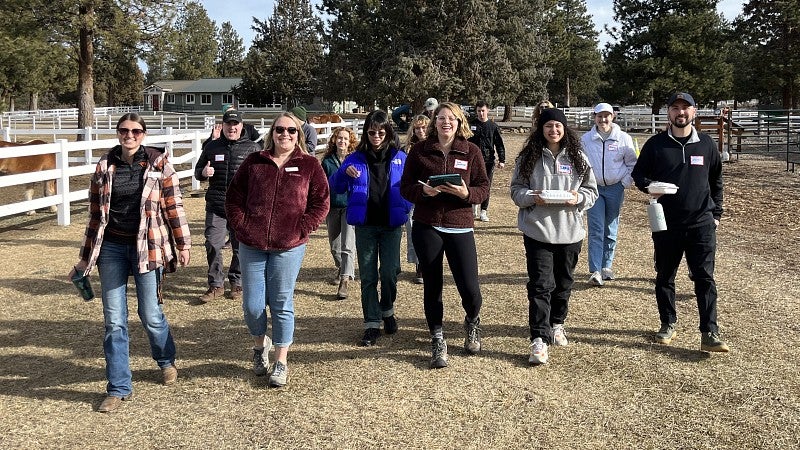 During their visit to Bend, most students focused on the Healing Reins staff and clients. But Howard was immediately enthralled with the horses—their beauty, size, and distinct personalities (like Enzo's).
"Seeing what the horses do and how they move struck me," Howard recalls. "That field experience gave me a great impression of what we're trying to do."
Horses are incredibly sensitive to physical and visual stimuli. At the withers (the highest part between the shoulder blades), a horse can sense a shift in pressure equal to the weight of three grains of sand. From two yards away, they can tell if you tilt your head just eight thousandths of an inch.
This keen awareness makes therapy riding taxing for horses. They must constantly correct their balance to accommodate untrained riders, many with disabilities, who don't use standard physical and visual cues.
These hardworking horses were Howard's muses for an innovative product: the Bronco Prong.
The Bronco Prong is made of high-impact polystyrene and resembles a molecular model you might find in a chemistry class. It has four black spheres (a large pair and a small pair) at either end of a red handle. The large spheres are used to massage the horse's spine and the small pair is for smaller muscle groups such as those near the ankles. It's simple, elegant, and remarkably effective.
If the horses can recover more quickly and thoroughly, Howard says, Healing Reins can help more people. He also hopes it will help therapy horses live longer.
Learning product design by designing helpful products
Undergraduates earning a product design bachelor of fine arts start in Eugene, then spend their final year at the University of Oregon Portland campus, where they're encouraged to find industry internships.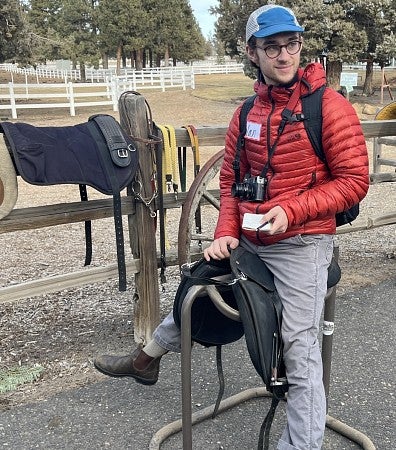 Before traveling to Bend, the students conducted research, sketched out rough ideas, and participated in Zoom discussions with Healing Reins. After the trip, they refined their ideas and spent hours in the UO Portland studios using professional design software, industrial sewing machines, and 3D printers to create and refine prototypes.
Each student's ten-week journey from concept to creation was as unique as their product. But they all developed a custom work plan and communicated regularly with Healing Reins.
The class culminated in a final review session with visiting UO professors from Eugene and Portland, as well as reviewers from Nike. Students were critiqued on their storytelling, construction quality, innovation, and problem solving. Healing Reins joined via Zoom.
Howard's invention worked so well Healing Reins kept his prototypes and immediately put them to use. He's considering patenting the Bronco Prong and selling it to therapy horse owners, a potential market he hadn't thought about much before taking the class.  
Exposing students to a new target audience was intentional, says class instructor Nate Roese, MS '20 (sports product design). Roese is a product developer at Evergreen Prosthetics and Orthotics in Beaverton.
"I work in this industry, so I'm around people with missing limbs and certain disabilities all the time," Roese says. "It's exciting to go back and inspire budding designers to think about these people. Product designers don't always have to work on the coolest basketball shoes. There are so many possibilities for creating something that's both awesome and helpful."
Portland is a hub for the sports product industry. Roese—a Big Ten athlete who qualified for the 2023 USA Indoor Track and Field Championships in the 800-meter race—wanted students to consider a customer base that he hopes the industry will recognize more often: adaptive athletes who compete in sports that are modified to allow people with disabilities to participate.
He adds that novel solutions for niche markets often lead to design innovations that can be applied to everyday products. Other exciting aspects of the class, Roese says, are the upward spirals of evaluation and iteration that inspire students to improve working prototypes based on trial and error.
"The students aren't just hearing from us," Roese says. "They're working directly with participants, getting real-time feedback, sending prototypes, then getting more feedback and making adjustments. They finish this class with an impressive product sample for their portfolio—and a compelling design story to share with prospective employers."
A rider's vest that is flexible, breathable, and field-tested
For undergraduate Olivia Banks, her most poignant memory was trying out the hoist used for clients unable to mount a horse without assistance.
"It was different to experience it, as opposed to just watching it," Banks says. "The hoist pinched me. It was uncomfortable."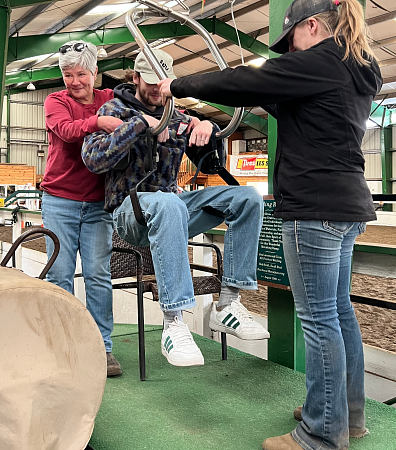 Experiencing this in person, she says, is different than reading about it or seeing a video. It made her feel like she was part of the process—something you can't get through a textbook.
"Product design requires the ability to understand what peoples' needs are without them having to directly express it to us," Banks says. "And then you put those into product-oriented solutions. Also, I want the objects I bring into the world to bring joy to people."
Banks designed her Equest Vest to replace the uncomfortable gait belts that clients wear while riding horses. A gait belt is a thin strap that fits around a rider's waist, providing handles for volunteers to keep the rider centered. Standard gait belts cut into riders' stomachs and limit their movement. And the grips are not comfortable for volunteers to hold.
After the trip to Bend, Banks researched thermal-sensitivity maps of the human body to see where heat collects and ventilation would be needed for her more comfortable, functional vest version of a gait belt. She scoured Portland to find materials with the right stretch.
To make sure the Equest Vest was the best it can be, she conducted extra testing beyond what the class required, trying it out with riders and therapy horses near her hometown of Beaverton.
"The Equest Vest makes sense once you see it in action," Banks says. "It definitely took a lot of research to figure out the sweet spot for the design."
Transforming ideas into products that can be tested is one of the most exciting aspects of the course, says instructor James Tuttle, BFA '17 (industrial and product design). Tuttle manages the UO Innovation Lab in Portland, which serves the Graduate Program in Sports Product Design.
Though this is the first year the studio course has focused on adaptive horse riding, the students always develop a product that they test and refine—getting as close to perfection as possible using available time, tools, and materials. The best part about this year, Tuttle says, was that students worked directly with the end users, trying to stand in their shoes and understand what they have to manage every day.
"We invited students to put away their biases and preconceived notions, to simply try to understand what someone's going through and how they could help. When we arrived at Healing Reins, they immediately began taking photos and jotting down notes. You could feel the magic happening and everyone getting excited about design," Tuttle says.  
"They had to understand the world of their intended users and help them overcome the challenges they face. Ultimately, the students created products that will enable the end users to perform better—or just have a better overall experience."
Ed Dorsch, BA '94 (English, sociology), MA '99 (journalism), is a staff writer for University Communications.