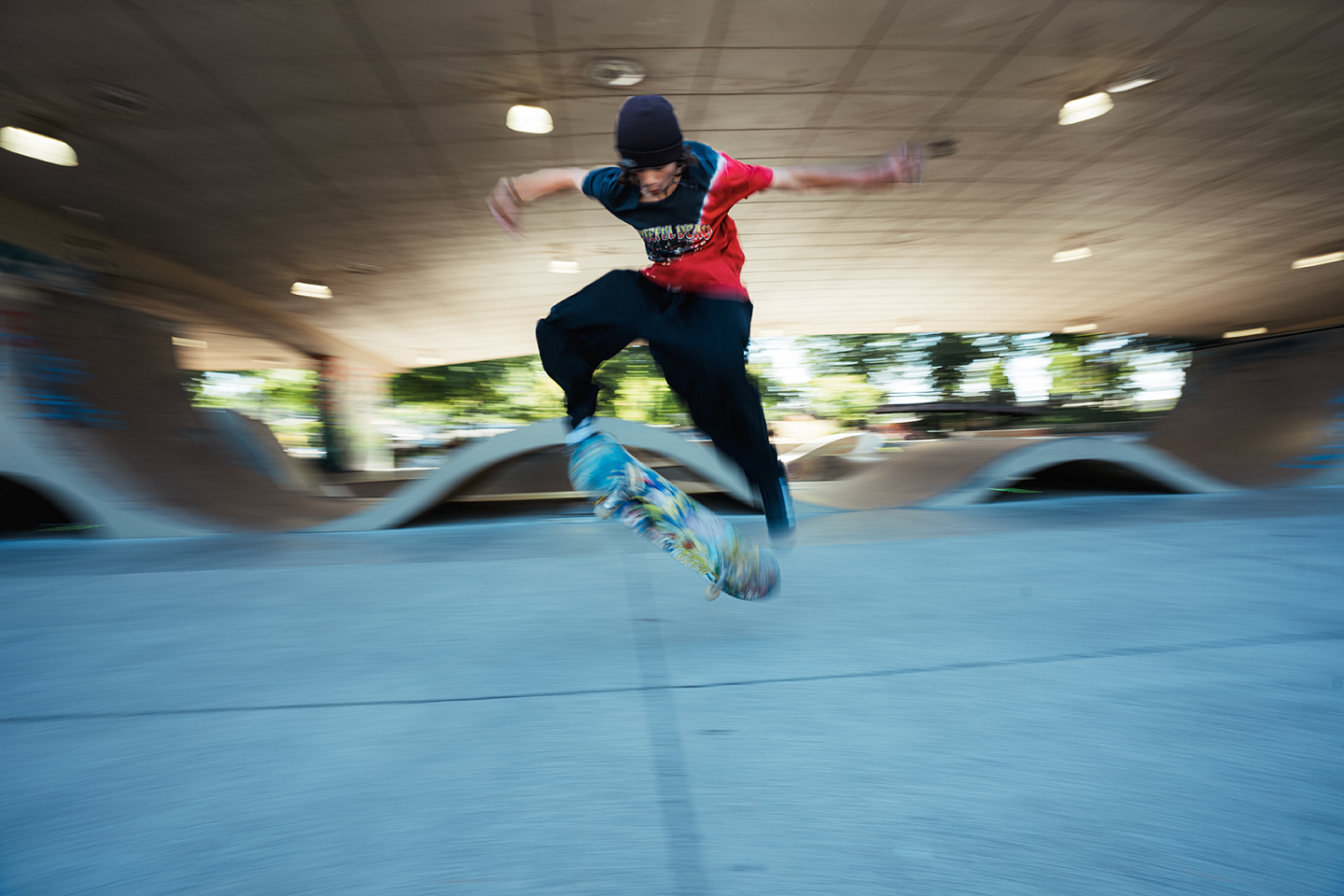 Improving Teen Lives With a Breath of Fresh Air
Does time outdoors and in nature reduce youth stress? The UO is using new tech to answer that.
By Alice Callahan • Photos by Nic Walcott • July 12, 2023
8 min read
On a breezy June evening, a 13-year-old named Ashton pauses outside Tactics board shop in downtown Eugene. He proudly carries a brand-new skateboard, and as the sharp whistle of a passing train cuts through town, reflects on what skating means to him.
Skating is about spending time with friends and being active, he says. And it means getting outdoors, usually in one of Eugene's leafy parks, which helps clear his mind.
"With every day I spend inside, I get a little bit more stressed, for sure," Ashton says. "But when you go outside, it just all goes away."
At the University of Oregon, researchers are studying the everyday experiences of teens such as Ashton, trying to understand how time outdoors and in nature affect their stress levels, health, and behavior.
Using cutting-edge technology from a UO spinoff, researchers are tracking a week in the life of hundreds of Eugene-area adolescents, including physical activity, stress levels, sleep, body image, and time on phones. All of that, plus the quantity and quality of their time in nature.
The study is led by Evergreen Associate Professor Liz Budd and Evergreen Associate Professor Nichole Kelly of the College of Education and will be the first of its kind to collect objective and individualized data on adolescents' time in nature.
"I feel like I don't have a lot of opportunities, and that's probably contributing to my stress levels."
The granularity of the data is possible because of a new app called NatureDose, which measures a person's time outdoors and in nature based on elements such as tree canopy, bodies of water, and levels of air and noise pollution. The app was developed by NatureQuant, a company cofounded by the College of Arts and Sciences' Chris Minson, Kenneth and Kenda Singer Professor in Human Physiology.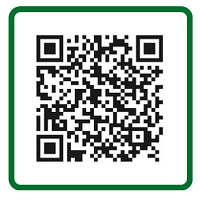 Research has shown that spending time in nature is associated with greater physical activity and sleep, reduced stress, improved mental health, better cognitive function, lower blood pressure, and reduced risk of cardiovascular disease. But those studies generally relied on crude measures or self-reporting by participants; none have collected data as detailed and individualized as that generated by the NatureDose app.
Plus, few studies have looked at time in nature during adolescence, which is a uniquely vulnerable stage, Budd says. As kids become teenagers, their physical activity and sleep often decrease, and rates of anxiety, depression, body dissatisfaction, and eating disorders increase. And today's teens are coming of age in an era marked by a pandemic, worries about social media and screentime, gun violence, climate change, and a national youth mental health crisis. It's a stressful time to be a teenager, Budd says—but maybe time in nature can help.
Tech to track teens outside
Once downloaded onto a smartphone, the NatureDose app tracks where the user spends time as they go about their day, including differentiating time indoors and outdoors and calculating a "NatureDose" for minutes of nature exposure. The app offers motivation to log more time in nature and reap its health benefits (like aiming for ten thousand steps per day, but instead focused on minutes in nature), and it's a powerful tool for researchers, Minson says.
In the teen study, participants were asked to go about their week as usual, allowing the app to capture their typical time spent outdoors and estimate the nature quality of their locations on a scale of 1 to 100 (called the "NatureScore").
For example, when Ashton was hanging with friends outside his middle school next to expansive Westmoreland Park, he earned a NatureScore of 76. At his favorite skate park, located under the I-105 on-ramp and framed by a mix of greenspace, asphalt, and traffic noise, he logged a score of 52. A hike up Spencer Butte, on the other hand, would give him a 99.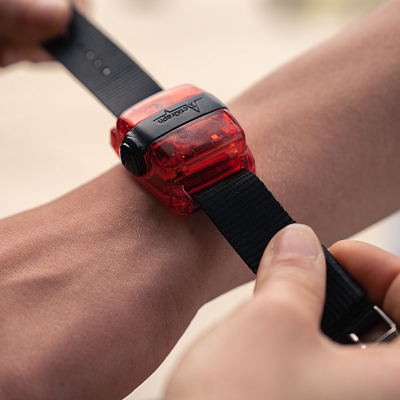 Participants are also outfitted with an accelerometer, which is worn like a wristwatch and measures physical activity and sleep patterns. At the end of the week, data downloaded from the device reveals when participants went to sleep each night (4:00 a.m. for at least one participant, who said he stayed up playing video games), how many times they woke each night, and the amount of time spent being sedentary or active at different intensity levels.
With support from the Office of the Vice President for Research and Innovation and the Sport and Wellness Initiative, researchers are collecting data on roughly 350 adolescents. Kidsports, a nonprofit youth organization run by Beverly Smith, BS '88 (physical education), provides a safe and welcoming site for study visits at their Civic Park facility and has helped recruit a diverse group of teen participants from Eugene, Springfield, and nearby towns including Cottage Grove.
At the start, participants complete a survey covering information including demographics, mental health, attitudes about physical activity, connectedness to nature, mindfulness, body image, self-esteem, and social media use. During the study week, they're prompted by text message to complete a nightly survey about whether they experienced stress or discrimination and their feelings about their body that day, plus how much time they spent on phones and on social media.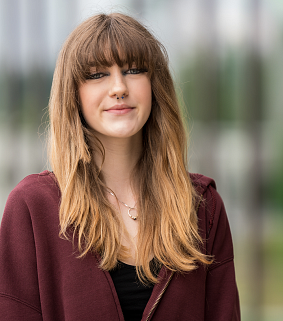 "It was a little surprising to be seeing how much I was on my phone," says Rubie, 15. But she was also pleased to see how much time she logged outside in the NatureDose app, and she'll keep using it as a reminder to go outdoors, which "helps a lot with my mental health and stress," she says. "It just kind of makes me feel like I'm not as trapped or having to do a lot of things."
Grad students take the lead
Swing by the Kidsports facility this summer and you may catch Esmeralda Castro and Zach Farley, both doctoral students in prevention science, chatting with teens on the study, which the two are running with the help of other undergraduate and graduate students.
Farley intends to focus his dissertation on spatial analysis of the NatureDose data, including the number and proximity of parks in the neighborhoods of participants. He predicts that teens with parks close to their homes will log more nature exposure and physical activity—and be less stressed—than those who live in neighborhoods without parks.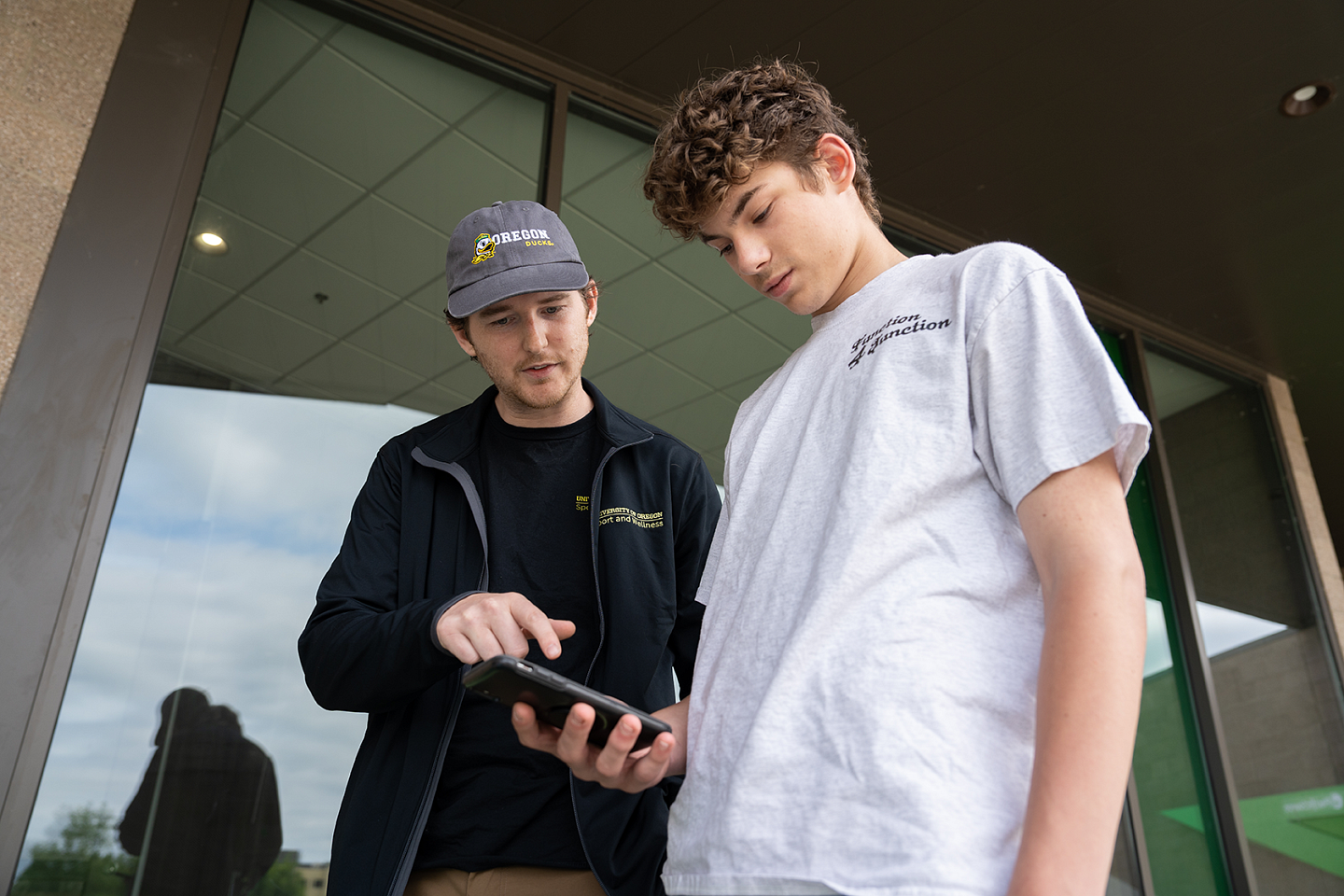 Farley's hypothesis rang true for one study participant who lives in North Eugene. "I can walk for five minutes, and I hit the expressway, and then I walk in the other direction for ten minutes, and it's like a really busy road," says the 17-year-old. "I would love to be able to go outside more and really be in nature, but I feel like I don't have a lot of opportunities for that, and that's probably contributing to my stress levels."
Castro is especially interested in adolescent physical activity and body appreciation. Participants are surveyed regarding how much they respect, feel love for, and "appreciate the different and unique characteristics of [their] body," she says. Research has found that adolescent girls with greater body appreciation were more physically active. Castro hypothesizes that spending more time in nature will lead to greater body appreciation, which could increase physical activity.
"With increased nature exposure, there's this sort of cognitive quiet that our mind gets, and it's a very restorative phase," Castro says. "It helps us recover from negative images, negative thoughts, negative perceptions—which include thinking negatively of our bodies and of our capabilities—and helps restore these positive thoughts." She's also examining the role of gender in body image and physical activity; teen boys, on average, are more physically active and have greater body appreciation than teen girls.
Exploring the data
Results from the study—expected in early 2024—could support recommendations by pediatricians and other health experts that adolescents spend more time in nature to improve well-being, Budd says. And teens may be more motivated to get outdoors and be physically active if there are proven benefits like improved sleep and mental health, Castro adds. Findings could also inform the design of healthier communities that incorporate more parks and courtyards or other outdoor spaces for schools, Farley says.
The researchers plan to examine how disabilities, weight bias, and other forms of discrimination affect adolescents' time in nature, and they'll dig into the data on how teens are using screens and social media.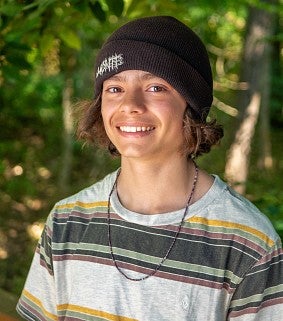 While their teens got set up for the study, several parents said they're worried about how screen time and social media are affecting their kids, echoing an advisory on social media's "risk of harm to the mental health and well-being of children and adolescents," issued in May by US Surgeon General Dr. Vivek Murthy.
The ubiquity of screens in kids' lives "feels like a big experiment that we didn't sign up for," says one mother. She encouraged her teen to enroll in the UO study, in part to contribute to research so that scientists can better understand the very thing she worries about.
For his part, Ashton has a nuanced view of social media. Snapchat is useful for texting friends about meeting up to skate, he says, and he likes the encouragement he receives when he posts videos of his skate tricks on Instagram.
"People will be like, 'Dude, that was sick!'" he says. "And it feels good."
Alice Callahan is a freelance writer in Eugene whose work appears in publications including the New York Times, the Washington Post, and Knowable Magazine.
Nic Walcott, BS '16 (journalism), is a videographer and photographer for University Communications.