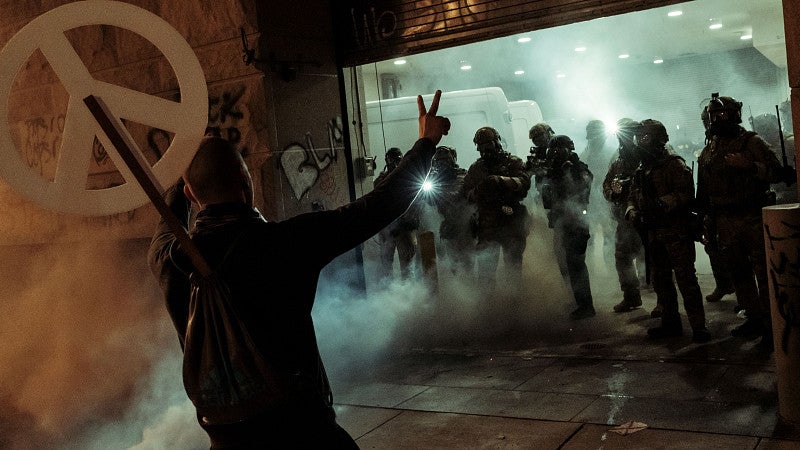 Mason Trinca: Black Lives Matter Protests Behind, Wildfires Ahead
Last summer was dangerous for documentary photographer Mason Trinca. This summer will be the same.
By Matt Cooper • Photo by Mason Trinca • April 7, 2021
3 min read
During the tumultuous summer and fall of 2020, a photojournalist needed more than cameras and lenses to cover the news. Kevlar jackets, ballistic helmets, and gas masks were also standard operating equipment.
That was the case for Mason Trinca, a documentary photographer who covered the at-times violent protests in Portland for the New York Times. The city was in the national spotlight repeatedly as activists and protesters clashed with opponents and the police for more than 100 days on issues including Black Lives Matter concerns, the 2020 election, and federal response to protests.
Against a backdrop in which tear gas and rubber bullets were nightly concerns, Trinca, BS '13 (environmental studies), suited up in body armor and dove into the fray. Relying on tips from sources, real-time guidance from the newspaper, and his own instincts, he strove to capture in pictures all sides of a fast-evolving story with subplots including the seizure of protesters by unidentified federal agents and counter protests by right-wing groups.
A Trinca photograph provided one of the defining images of the summer: a bird's-eye view of shooting victim Aaron Danielson, a supporter of the right-wing group Patriot Prayer, taken from a rooftop.
Interviewed earlier this year, Trinca—who lives in Portland with his wife, designer Myray Reames (BA '14, journalism)—was still trying to make sense of last summer's events.
Covering the protests had drained him physically and emotionally. Far from enjoying some sort of journalistic immunity, Trinca and fellow reporters received death threats for their coverage.
"We were targeted multiple times, for our coverage both on the left and right side," Trinca says. "When we do fair and accurate coverage, we get threatened on both sides. People want to exist in their own ecospheres and oftentimes not want to hear the other side of the story, whether it's good or bad."
Trinca hadn't fully processed the protests in part because he hasn't slowed down. He recently returned from Liberia on a shoot for a commercial client and also finished a job for Wired magazine (he's bound by confidentiality agreements from discussing projects prior to release). He was also retained by the state and Portland advertising agency Wieden+Kennedy—known for its work with Nike—to provide pictures for a campaign on the importance of masks during the pandemic.
What ties Trinca's various assignments together, he says, is storytelling. All his clients want it: genuine, revealing, human moments, whether the medium is journalism, advertising, or public service. A class in environmental studies first planted in him the notion of storytelling with a camera, and Trinca developed his skills with Sung Park, senior instructor in the School of Journalism and Communication.
"What makes my work—and the work of a lot of photojournalists-turned-commercial photographers—special is that we can pitch the idea, 'This is a real story; we're going to find real people and capture real moments,'" Trinca says. "People want that more and more."
Next up: finding a fresh way to tell the story of this summer's inevitable wildfires.
Trinca has photographed California's sprawling blazes roughly a half-dozen times. The saturation news coverage of these catastrophes forces him to constantly reexamine his approach in hopes of producing an uncommon photograph, a different perspective. He's already begun preparations—shoring up the camera equipment he'll need, working out logistics, girding himself mentally.
"How are we going to cover the wildfires differently?" he asks. "What will resonate with audiences when we are constantly bombarding them with terrible images? How do we bring humanity to that? These are the things I think about for the next disaster."
Matt Cooper is managing editor for Oregon Quarterly.