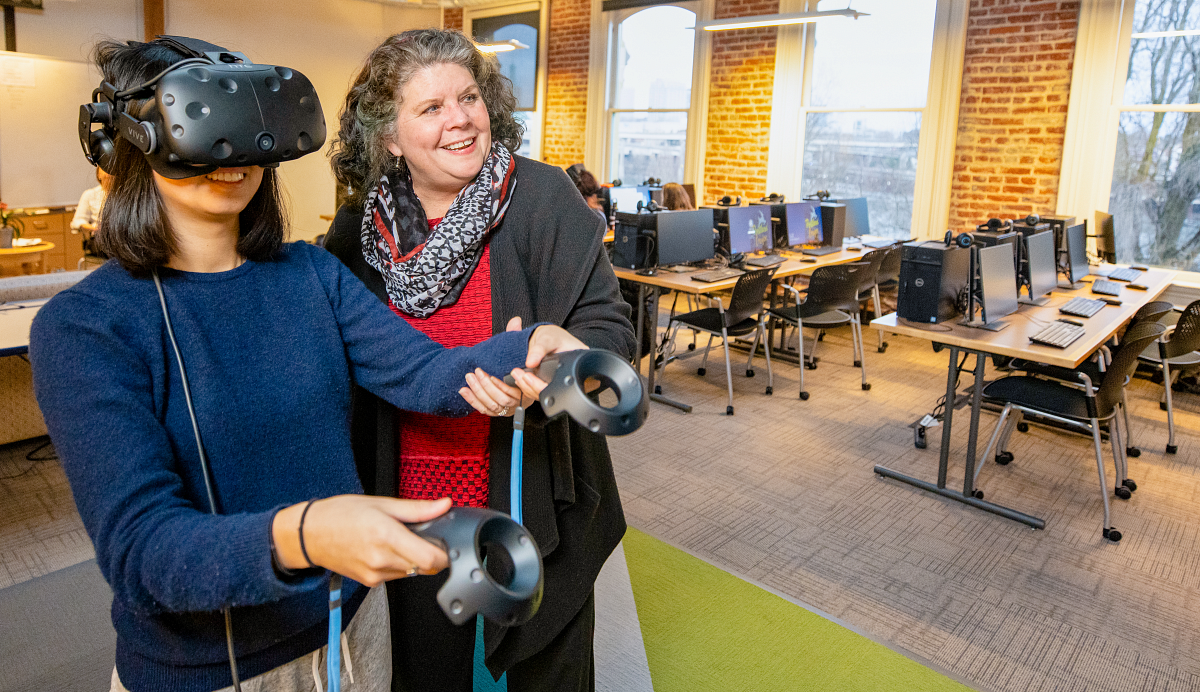 Training the Next Virtual Virtuosos
A new immersive media communication master's degree envisions an exciting reality for creative careers
By Marcus Wilkins • October 4, 2023
6 min read
Tip back your head to peer at the beachfront architecture framing the subtropical sky. Surrounding you in the sand are dozens of eggs—they are your siblings, simultaneously emerging from your comfy clutch. As you use your flippers to traverse the shore, your first steps in an epic oceanic journey, a speedboat zips past in the waiting waves and jostles your shell. It's your first pang of the dangers that abound in the modern world.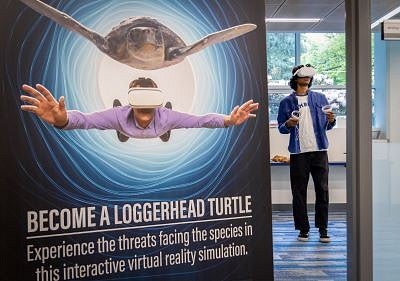 Thanks to the immersive magic of the latest virtual reality (VR) technology—delivered through VR goggles—you are experiencing a loggerhead sea turtle's first moment of life. Developed by Daniel Pimentel, assistant professor of immersive media psychology in the University of Oregon School of Journalism and Communication (SOJC), the fifteen-minute Project Shell experience cultivates empathy by giving the user a first-person experience of an endangered reptile's ecological plight.
"In VR, what happens to your virtual body is imprinted on your mind as a lived experience, which changes your view of the issues you encountered, and thus your willingness to take action," says Pimentel, a fellow with the environment initiative, one of the university areas where interdisciplinary collaborations are building on a strength for greater global impact. "For example, when people become sea turtles, they view other sea turtles in the environment differently than they view other animals. You see them as part of your in-group."
It may seem futuristic, but immersive media is already in use all around us, from video games and retail websites to nonprofit work and education. To help UO students get ahead of the surge in this emerging communication technology, SOJC launched a one-year online master's degree in immersive media communication in the 2023–24 school year. The program filled quickly and recruitment for 2024–25 has already begun.
Virtual Reality: Project Shell
Virtual reality immerses the user in a world that exists only inside a computer, accessed via a headset. Unlike a flat, two-dimensional photograph or video, virtual reality content fills the user's field of vision with three-dimensional footage. The content can be part of a digitized world such as a video game or real footage from environments such as the surface of the moon. When paired with sounds, smells, and haptics—tech that stimulates the sense of touch and motion to simulate the sensations a user would feel in the real world—VR content can be a fully immersive experience.
Pimentel created Project Shell to test whether participating in an immersive experience would increase empathy for endangered wildlife and concern about environmental issues. Users don VR headsets to "become" a loggerhead sea turtle, complete with flippers. During a fifteen-minute session, users peck their way out of an egg and then make the journey from hatchling to adult, dodging hazards such as ships, trash, and fishing gear. They sit in a special chair that mimics a turtle's paddling position—prone with flippers extended—and wear a haptic backpack that sends vibrations to their spine when, for example, a boat speeds by. Pimentel's team found that the experience of body transfer increased participants' compassion for sea turtles and the money they would be willing to donate to marine conservation.
New power to inform and tell stories
The immersive media communication program teaches graduates how to build immersive content and use it to communicate about brands, nonprofits, social causes, and more. Immersive media, or extended reality (XR), is a broad category that encompasses virtual reality (VR), augmented reality (AR), mixed reality (MR), social virtual worlds, and other digitized environments. The metaverse—not to be confused with the company Meta, formerly Facebook—describes the approaching future of cyberspace where users are connected in virtual, augmented, and other extended-reality environments.
According to immersive media communication master's program director Donna Davis, who also codirects the SOJC Oregon Reality Lab with Pimentel, the immersive media industry will soon change everything about the way we communicate and interact, in much the same way social media reshaped the world more than fifteen years ago.
"Many communications professionals discounted the potential of platforms such as Facebook and Twitter as communication tools when they initially launched," says Davis. "We cannot afford to ignore the power of immersive technologies as communications platforms and opportunities when they have such power to tell stories, create experiences, and teach in new and profound ways, especially if you want to reach Gen Z or Alpha"—people born in the mid to late 1990s through the mid-2020s—"who are truly digital natives."
"This technology is coming at us like a bullet train whether we want it to or not."
—Nikki Dunsire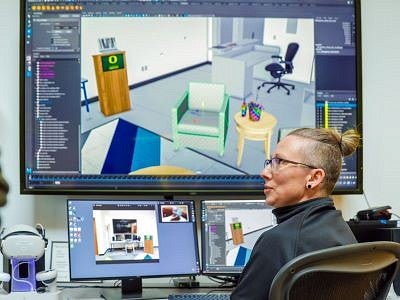 The SOJC believes communicators who learn how to use immersive media will help their employers get ahead of the curve.
"This technology is coming at us like a bullet train whether we want it to or not," says Nikki Dunsire, manager of the Oregon Reality Lab and one of the founding instructors of the immersive media communication master's program. "Having a diverse set of voices at the table is important and this is a discipline that is touching every industry. It's in high demand."
Social Virtual World: Student Nonprofit Project
Social virtual worlds such as Second Life, Roblox, and many video games are digital environments where people assume an avatar, or digital body, and interact with other users. As an SOJC strategic communication master's student who graduated this year, Jake Savelich built a virtual environment using Unity, a development platform with 3D, VR, and AR capability, in Dunsire's class.
In the digital world proposed in his capstone project, users would be transported to a village they can explore to find a water can. As part of an experience designed to inspire empathy for and donations to the nonprofit charity: water, a narrator would invite users to "pick up" the can while explaining how heavy it would be if full, how far people must walk for water in actual villages, and how long it takes. The participant could take the can to a cement pad and help assemble a well while learning how clean water changes lives. Once the well is complete, participants would fill the water can and set it next to the well, triggering a 360-degree video showing how charity: water transforms real villages in Africa.
Path to a dream job
Davis created the online program with classes covering the strategy, design, and psychology of immersive media approaches. The course incorporates interactive chat sessions, VR experiences, virtual field trips that can be taken individually or in groups, faculty office hours held in a virtual world, and practice with immersive media-building tools. Students' tuitions cover the cost for individual laptops and VR headsets, which they get to keep.
Video: 'Bring Wonder to Your Audiences' with the immersive media degree
"There are so many opportunities and pathways to success when a student has extensive experience in immersive media strategy, largely because all industries are leveraging immersive media in some form to engage with stakeholders," says Pimentel. "It is only a question of what field a student wants to enter, after which they can tailor our program to give them experience to potentially enter that space."
Jake Savelich, a 2023 graduate, worked with immersive media faculty as a strategic communication student before the new online immersive media program launched. "Before I started the [strategic communication] master's program, I was working for a local nonprofit because I wanted my work to make a difference in other people's lives," Savelich says. "[The immersive media faculty] helped me find a way to do that through communication. There's a huge audience in immersive platforms already, and it's growing."
Savelich compares his project to Amazon's and Ikea's augmented reality applications, where you can view images of furniture and household items "placed" in your living room or kitchen before buying them. Disney, Gucci, and Nike are among the many companies hiring immersive media strategists and metaverse marketers to sell their products.
Augmented Reality: Vanport Mural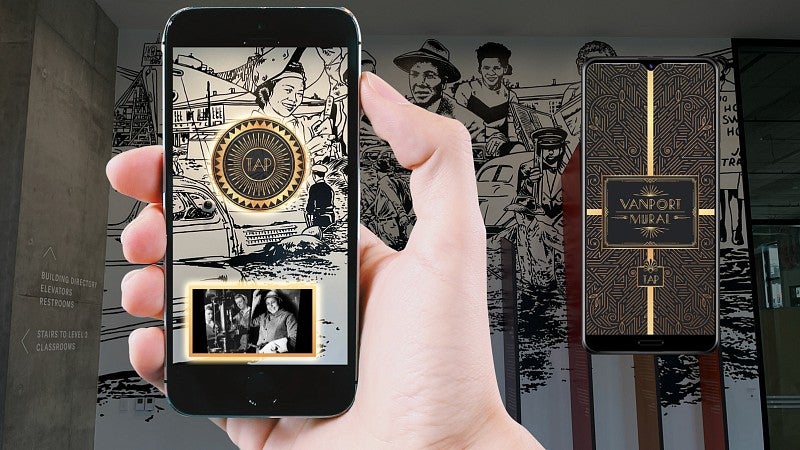 Augmented reality and mixed reality apps overlay computer-generated images or information on the real world—usually through a smartphone screen or wearable smart glasses. This is what's at play when you digitally "place" a piece of furniture into your living room on a retailer's website, or when you play Pokémon Go and see cartoon characters appear on the sidewalk in front of you through your phone's camera. Users of the social media platform Snapchat can also use AR filters and lenses to alter their photos with animal ears, flowers, sparkles, and more.
The Spirit of Vanport is a mural tribute to the residents of Vanport, Oregon, a wartime Portland housing development destroyed by the 1948 Columbia River flood. Thousands of Black Americans lost their homes, due in part to the inadequate response of local government. When users scan the mural with Snapchat through a smartphone or mobile tablet, digital educational content such as oral history videos appear on their screens.
"Much like traditional strategic communication, graduates from this program can find their skills and expertise will be in demand across many fields," says Davis, who has also conducted extensive research into the ways virtual worlds can help individuals with disabilities. "Any organization attempting to reach audiences for advocacy, behavior change, attitude change, sales, marketing, and the many disciplines in communication can find an effective use of augmented, virtual, and extended realities. Already we are seeing museums, health care organizations, and NASA finding effective uses of immersive media."
Marcus Wilkins, a writer specializing in higher education in Columbia, Missouri, covers research, community, athletics, fundraising, and long-form profiles.
Photo of Donna Davis with student by Charlie Litchfield, University Communications. Videos and media provided by the School of Journalism and Communication.