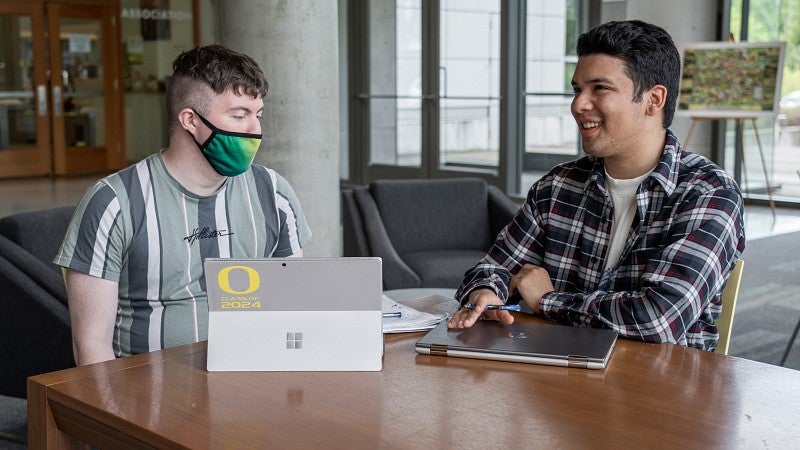 Putting the "Peer" in Peerless Support
Student mentors help PathwayOregon scholars navigate college life and thrive
By Ed Dorsch • Photo by Vincent Foster • May 22, 2023
3 min read
First-generation college student Eric Ruiz Cortes knows how disorienting the transition to undergraduate life can be. When the accounting and Spanish major started his first year at the University of Oregon in 2019, he appreciated the supportive community he found through the PathwayOregon scholarship program.
"Some people can rely on the experience of their parents or somebody else they know," Cortes says. "For me, it was like, 'Where do I go if I need something?' I didn't have a grip on what to do or where to go yet. It was daunting at times."
PathwayOregon covers tuition and fees for qualified Oregonians who are eligible for the federal Pell Grant. The scholarship program also provides students with personal support that helps them succeed. That includes academic advising, financial and career counseling, and a community that includes peer mentors.
For Ruiz Cortes, simply knowing he could reach out and talk to somebody—a familiar, friendly voice—helped alleviate fear and anxiety during his first year as a Duck. Grateful for the help, he paid it forward, first as a PathwayOregon peer mentor and this year as coordinator of the program, helping manage fifty to sixty mentors.
Since 2015, the program has matched first-year PathwayOregon scholars with peer mentors who check in regularly, offer advice, and connect their mentees with resources. The mentors also help normalize obstacles to success that students face, says PathwayOregon advisor Kelly Mason, BA '17 (Spanish; planning, public policy and management), MA '22 (planning, public policy and management).
Undergraduates, especially first-generation college students, often assume they're the only ones facing problems that are actually quite common, Mason says. Understanding they're not alone instills belonging and confidence, helping them succeed early in their college careers. Statistically, this early success correlates with increased undergraduate retention rates. 
Working with peers is sometimes more effective than seeking guidance from faculty or staff, Mason says. The mentors have recently experienced what their mentees are going through. That's especially important for cohorts that attended school during the pandemic.
And the mentees aren't the only ones who benefit, Mason adds. Mentors gain career skills and experience they can add to their résumés, such as time management, problem solving, and communication.
"I'm their cheerleader making them feel welcomed to this community."
—Minnie Chau, mentor
Junior anthropology and general science major Carter Boldman sees a link between his experiences as a peer mentor and his aspirations to work in a museum.
"I'm helping others, giving them a guiding hand," Boldman says. "I feel like it also provides good communication skills. In my dream job, I would be explaining different information to people and helping them learn more, which is what I do as a mentor."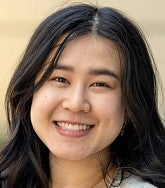 In addition to one-on-one connections, participants share group activities such as Friday coffee hours and outings to the Eugene Saturday Market. Mentors often invite mentees to join them for UO events or to check out student organizations.
"A university has nooks and crannies that students might not know about," says mentor Minnie Chau, a senior majoring in general science. "I enjoy being able to give them more information. For example, someone needs help with math; they're struggling, but I can tell them about the variety of tutoring opportunities on campus. Or if they love the outdoors, I can tell them about the Outdoor Program.
"I'm their cheerleader making them feel welcomed to this community."
Ed Dorsch, BA '94 (English, sociology), MA '99 (journalism), is a staff writer for University Communications.