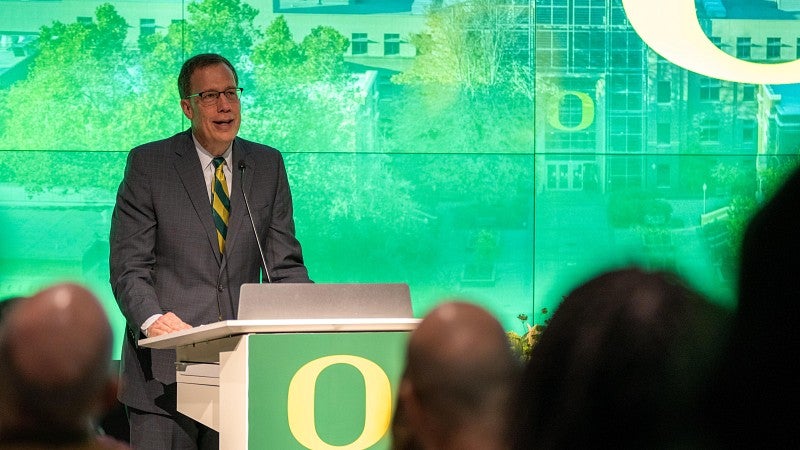 Talking Ideas with Karl Scholz
The university's incoming president on his career, curiosity, and what he likes about Eugene. Hint: he's a runner.
By George Evano • Photos by Charlie Litchfield • April 12, 2023
5 min read
On March 13, Karl Scholz was introduced as the University of Oregon's nineteenth president. A distinguished economist and longtime leader in higher education, he comes to Oregon from the University of Wisconsin-Madison, where he served as provost and dean of the College of Letters and Science. His presidency at the UO begins July 1.
Oregon Quarterly met with Scholz to learn more about his career, his family's move to Oregon, and his ideas about higher education.
OQ: What sparked the idea to pursue a career in higher ed?
KS: Both my parents had advanced degrees. My father was a chemistry professor, my mother studied microbiology. But the academic mindset did not flow immediately to me. As a young person, I was obsessed with basketball. I ended up not being good enough to play in a big-time program like Oregon or other Division 1 schools. So, I played basketball at a liberal arts college in Minnesota, Carleton College, where it began to dawn on me that my life was probably not going to be centered around basketball. At Carleton, I studied economics and mathematics. A faculty member took an interest in me and supported me, and then I had a break and got to be a research assistant at the Brookings Institution [a nonprofit public policy research organization in Washington, DC, that develops solutions to societal problems]. And those two events began to change my life. I went to graduate school at Stanford and had a fantastic mentor there, which prepared me for a wonderful career in higher education.
OQ: As an economist who has led institutes and programs and advised in two presidential administrations, when did you first grasp the idea of supply and demand?
KS: I played the bassoon as a young person. I like to say I understood supply and demand from an early age. Orchestras need bassoonists, so there is steady demand. But the supply was restricted: there was not a lot of competition among bassoonists in Lincoln, Nebraska. That allowed me to play in the youth symphony and, in fact, be a senior soloist when I perhaps did not put as much time into it as some of my more musically focused peers!
OQ: As a higher education leader, what are your guiding ideas?
KS: My astronomer friends tell me that the North Star is really three stars. Polaris A, Polaris B, and you'd think you'd know the third one.
OQ: Polaris C?
KS: In fact, it's Polaris AB. That's a little astronomer humor. For me the North Star refers to the foundational principles of the university. We're trying to create world-class, life-changing experiences for the students we serve. We're trying to push the boundaries of knowledge and enhance understanding of what it means to be human. And we're serving our communities, our state, the region, and the world. Those are the three guiding stars. And layered on top of that is respect: we're going to treat each other well and work to create an environment where we can each reach our full potential. In doing that, together we will tackle the things that will truly make Oregon a leader in higher ed.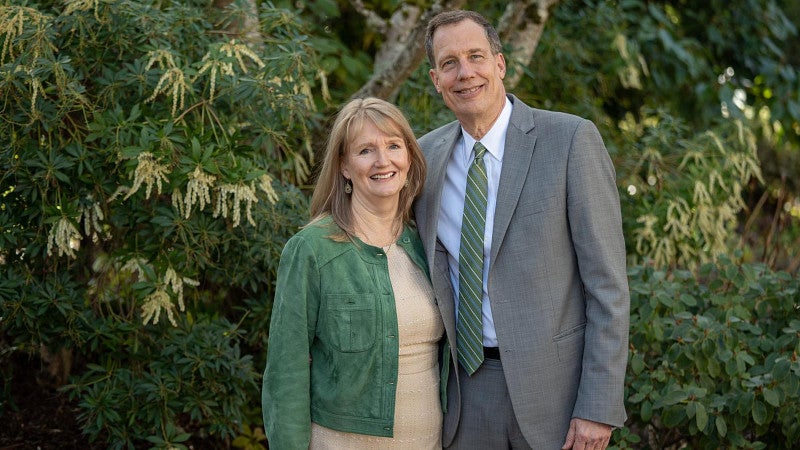 OQ: You've been with Wisconsin for more than thirty years. The day you came home with the idea that you could pack it up and move halfway across the country to Oregon—what was the dinner-table conversation like?
KS: So, so great. It was joy and excitement with my wife, Melissa. She grew up in California, so she's very excited about moving back to the West Coast. I have three daughters. The oldest, who's in California, is really excited. The middle, who's here at UO has, I think, somewhat mixed feelings. The youngest, who's going to school in Virginia right now, let it be known that we're "going too far away." But generally, a lot of support.
OQ: Aside from adding a whole bunch of green and yellow to your wardrobe, what are you most looking forward to in moving to Eugene?
KS: Joining the wonderful UO community. It's a great university—a member of the Association of American Universities and as such, it's one of the sixty-five leading research universities in North America. It's been exhilarating to learn more about the accomplishments of Oregon students, staff, faculty, and alumni. And things outside the university are also aligned. I love sports. The Oregon Athletics brand is fantastic. We love wine. The Willamette Valley is, for wine, a mecca, since we've always loved Pinots. I'm an avid recreational runner. I love music. I do a lot of listening when I'm running (slowly!). So, the idea of coming to TrackTown USA, and having this opportunity, is a dream come true.
OQ: You frequently use the phrase "curiosity-driven research." Why do you like that idea?
KS: A variety of reasons, but I think it's a wonderful umbrella that covers what a great public research university does.
It's broad enough to encompass the fascinating research that occurs in the arts and humanities. Why do certain things endure? Why are we reading Shakespeare now, when contemporary writers of his time have been forgotten? That's the sort of question that humanists will dive into and help us better understand our world.
Curiosity also encompasses what we call "blue sky" science—the science that helps us understand, let's say, the origins of the universe, which may not have immediate commercial applications, but in time sometimes can.
And then of course, it encompasses the phenomenal basic and applied research that's happening out of the Knight Campus, where we're accelerating scientific impact, and the Ballmer Institute for Children's Behavioral Health, and so much other work across the UO campus that will serve society.
OQ: What about instilling curiosity in students?
KS: I often tell students to try to have experiences that will help you to be a better human. Celebrate the arts, celebrate the experience, celebrate all these magnificent things that we do. Going through a great university like the University of Oregon, students will acquire skills that allow them to earn a good living, but also to lead a good life—to understand culture, to understand belonging, to make connections, to be excited about acquiring new knowledge. As you do these things, curiosity naturally follows.
OQ: This issue of our magazine spotlights ideas that have been generated by Oregon faculty, staff, students, and alumni. What resonates for you about the power of ideas?
KS: Ideas inspire people. I think we become our better selves when there's that kind of inspiration. It can be subtle. It can be profound. But I think ideas are a key part of being human. Our interactions and our universities can be magical because our students are getting exposed to many ideas for the first time. It's a wonderful theme because it captures what universities are about.
Learn more about Karl Scholz and his announcement as the nineteenth president.
George Evano is senior director of editorial content for University Communications and publisher of Oregon Quarterly.