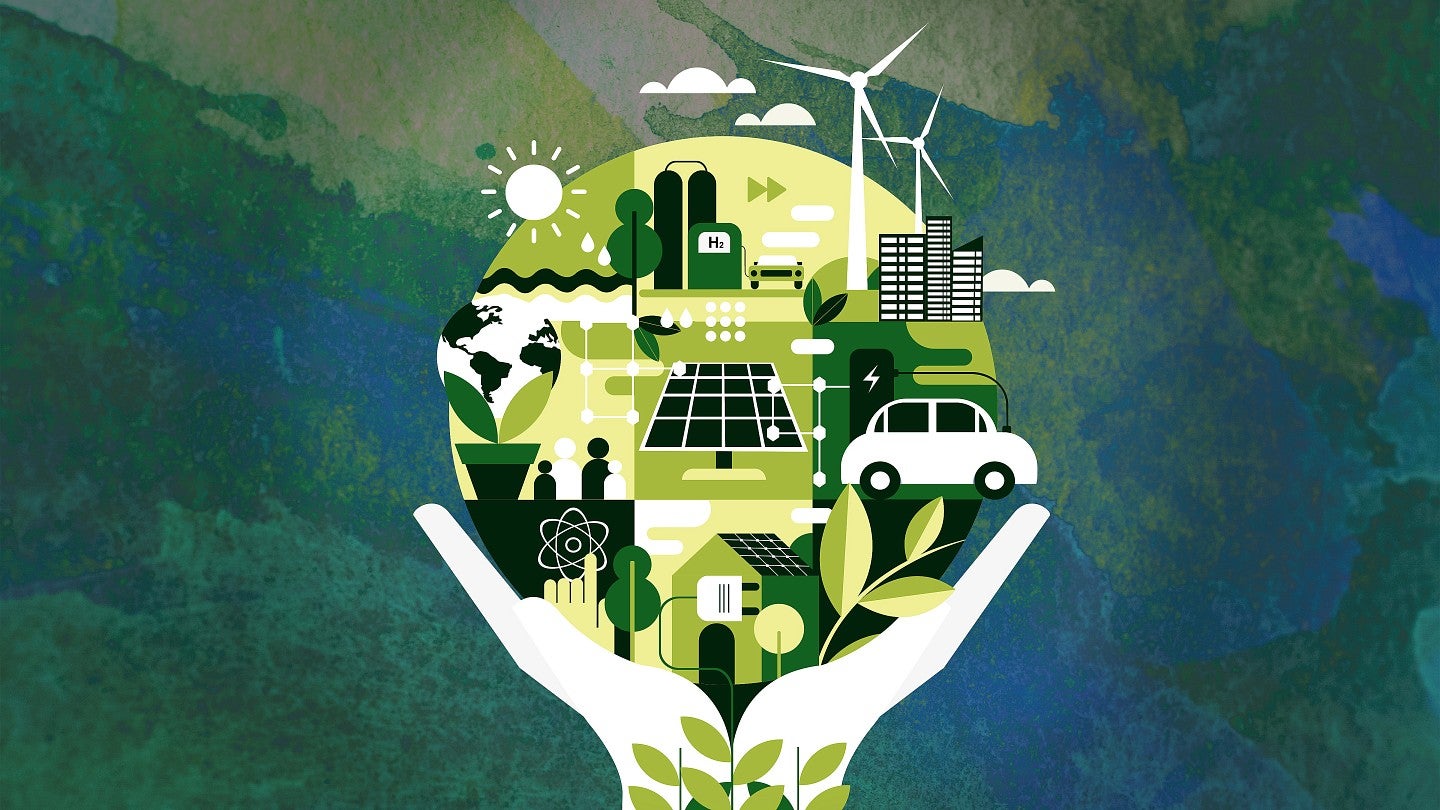 Greg Dotson is Down to Earth on Climate Legislation
Law prof offers insights on Capitol Hill, the historic Inflation Reduction Act, and cutting carbon pollution
By Ed Dorsch • Illustration by David Gill • October 4, 2023
4 min read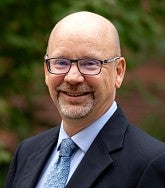 An expert at keeping the gears of Congress moving forward, Associate Professor Gregory Dotson has returned to the University of Oregon School of Law after working on historic climate legislation on Capitol Hill. 
August marked one year since the Inflation Reduction Act (IRA) was signed into law. The IRA includes provisions to counter inflation, lower drug costs, and more. It's also making great strides to lower carbon emissions. 
Dotson took a leave of absence in 2021 and '22 to serve as chief counsel for the US Senate Committee on Environment and Public Works. He focused on the decarbonization pieces of the IRA, helping write, negotiate, and push the bill over the finish line. 
Before joining the Oregon Law faculty in 2017, Dotson, JD '95, spent twenty years advancing environmental legislation in the US House of Representatives. He specializes in energy policy, renewable energy, and laws that reduce greenhouse gas emissions from cars and trucks.
OQ: What's the IRA?
Gregory Dotson: By far, the biggest step forward Congress has ever taken on climate change. It includes at least $370 billion in incentives to reduce carbon dioxide emissions, including tax credits, rebates, and federal grant programs. 
That budget number involves some prognostication because we're estimating future tax revenues and public appetite for incentive programs. More recent forecasts anticipate an even bigger impact, with some estimating over $1 trillion to reduce greenhouse gas pollution. 
OQ: How did such a big bill make it through such a divided Congress?
GD: The IRA is actually the second of a pair of related acts. The first, the Infrastructure Investment and Jobs Act of 2021, was the largest infrastructure bill ever passed. But it had limitations.
It included long-overdue infrastructure improvements for water, transportation, broadband, and more. But climate change is—unfortunately—a partisan topic, so many important decarbonization-related elements did not make it into the infrastructure act.
Step two was the IRA, which had a major focus on those climate provisions. As a reconciliation bill that's about budgets and taxes, it required only a simple majority to pass.
OQ: How does the IRA reduce greenhouse gas pollution?
GD: Some examples include tax incentives for electric vehicles, solar panels, clean energy manufacturing, and energy-efficient appliances. Others include new federal grant programs. Cities can obtain funding to develop and implement plans to reduce pollution or initiate energy projects. And it promotes cleaner production of construction materials such as cement and steel. 
"Stay hopeful and join the effort. It's easy to feel like there's nothing you can do. That feeling is unwarranted and debilitating."
—Greg Dotson
These are just some of many examples, but they all add up to less carbon in the sky. According to a US Department of Energy study released this August, by 2030 the infrastructure act and IRA will drastically turn back the clock on US greenhouse gas pollution—to 41 percent below 2005 levels.
OQ: What's the biggest obstacle to addressing climate change?
GD: Inertia. The systems we've built resist change, but people are leading the way. Ten years ago, you probably didn't know anyone with an electric car. Few, if any, of your neighbors had solar panels. What was once novel has become commonplace.
As we see the benefits of these technologies, more people decide to adopt them. Insulation and new windows make your home more comfortable immediately—then you get a lower electric bill. Heat pumps are efficient at keeping your home warm, with the added bonus of air-conditioning. Your new electric vehicle is fun and it frees you from getting whipsawed by prices at the pump.
OQ: How did you get interested in climate law?
GD: It started with backpacking, rock climbing, and a love for the outdoors. As a law student, I wanted to protect endangered species and threatened natural areas. Of course, I still care about those. 
But it didn't take long to see how climate change affects everything: forests, fires, wildlife habitat, rivers, glaciers, and so on. And of course the human cost of unchecked climate change is staggering. A strong response to climate change can help improve public health, transportation, architecture, and other human systems, even local economies.
OQ: What's next for you?
GD: Sharing my experiences with students. They're hungry to know about policy, passing legislation, and what it takes to make tangible progress on the environment. Teaching law represents an opportunity to take a deep breath, look at things more methodically, and focus on the end game.  
If you work in Congress, you focus on next week. If you work for a think tank, you can look at the coming months. At a university, you can work on even more enduring issues.
OQ: What's the most important message you'd like to share?
GD: Stay hopeful and join the effort. It's easy to feel like there's nothing you can do. That feeling is unwarranted and debilitating. In Oregon we just endured a summer of wildfires, heat waves, and smoke. On the news, we see other serious impacts of climate change from around the world. 
But we're in a very different place today than we were even a couple of years ago. The federal government has stepped up to support this transition to a new era. Because farsighted state policies are already in place, Oregon is ready to hit the ground running and put these resources to work. 
---
Be a Part of It
Learn more about the Inflation Reduction Act and available incentive programs 
Oregon Department of Energy on two historic pieces of climate legislation
Consumer guide to incentive programs
Ed Dorsch BA '94 (English, sociology), MA '99 (journalism), is a staff writer for University Communications.