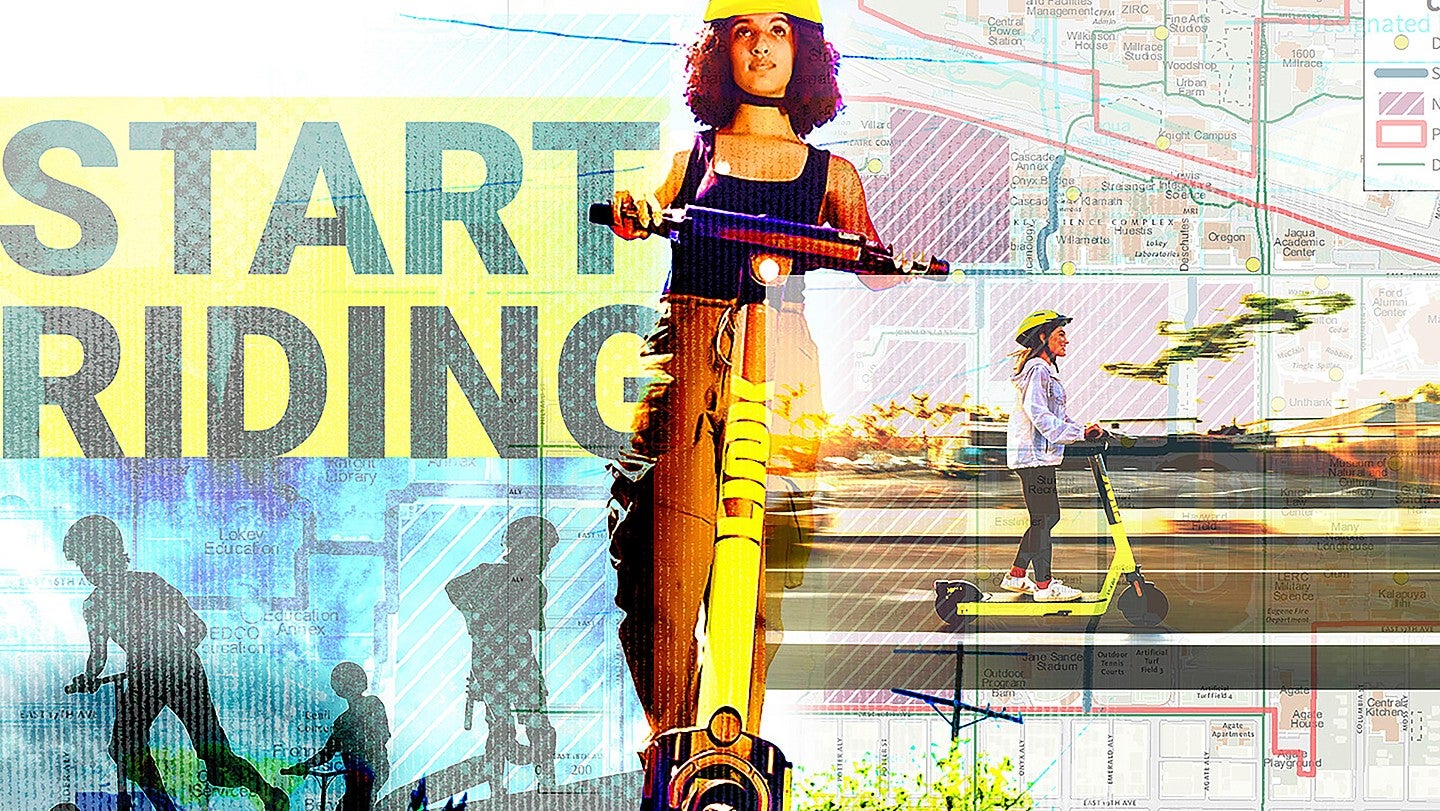 These Two-Wheelers Aren't Just Taking You for a Ride
Surge in e-scooter use at the UO follows path to transportation shift—and fun
By Don Kahle • Illustration by David Gill • October 4, 2023
4 min read
Is the electric scooter rental program at the University of Oregon and across Eugene the next new thing or a new new thing? Is it revolutionary or simply a continuation of our evolving multimodal future? First came Zipcars that could be rented by the hour. Then came bike rentals that charge by the minute and mile. Local transportation choices are expanding, but are they transmogrifying? (It's such a treat to be writing for a college-educated audience.)
According to John Kashinsky, UO active transportation coordinator, 84,527 scooter trips were taken in Eugene during the UO's spring term. Remarkably, bike-share trips citywide during that period actually increased slightly to 54,934, up from 53,406 the year prior. "Overall, there were two-and-a-half times more trips taken by shared mobility," says Kashinsky. "That definitely exceeded everyone's expectations."
Scooters are already changing habits—on the Eugene campus, across the city, and around the world. They could end up reshaping how people think about getting from Point A to Point B.
Why?
I couldn't talk to people using the scooters because I can't run that fast and take notes at the same time, but I've ridden the scooters myself and interviewed others. Here are six ways that scooters are completely new.
Scooters are cheap. Until we install airport-style moving sidewalks, it's hard to imagine any transportation alternative that will transport us from Dads' Gates to Hayward Field with a comparable mix of efficiency and economy. Kashinsky once forgot his laptop at home. He took a scooter to go get it. The four-mile round trip took eighteen minutes and cost him $9.02.
Scooters require almost no planning. You don't need to know how your trip will end before you begin. Although trips on the UO's Eugene campus are required to end in designated parking corrals, which are plentiful, the city has had fewer requirements. Across most of Eugene, riders simply leave their scooters wherever they finish using them.
Ubiquity makes scooters more convenient. There's probably one nearby when you need it. But, as we'll see, there's a fine line between "on your way" and "in your way." The most common complaint from residents concerns "scooter clutter," but it can also be a selling point.
Call it "perpendicularity." One person's end point is often another's starting point. Scooters are the impulse buy off our transportation shelf. A randomly located scooter can even feel like a gift from the gods.
For someone at the end of a long day or faced with an urgent need, scooters are not an alternative. They are a rescue. Step on board, twist your wrist, and watch the ground move under your feet. With no planning, no effort, and virtually no expense, the wind feels suddenly at your back.
Don't forget the final and most significant feature that sets scooters apart from every other choice in our multimodal world: they are fun! Yes, economical, efficient, available, accessible, and easy. But also yes, fun! Ride one down a hill or around a corner, and you can almost hear your mother calling you for dinner. I've ridden scooters in Eugene and Washington, DC, and Paris. Each time I've wished I had a clothespin and a baseball card, to make them sound as fun as they are to ride.
Returning to the clutter complaint, Marc Schlossberg, a professor in the School of Planning, Public Policy and Management, counterintuitively welcomes it. "Seeing scooters as clutter and parked cars as anything but just shows an unfair bias against the new thing," Schlossberg says. "Once you start seeing how ubiquitous car parking is, then scooter parking is just one more little thing."
His colleague Nico Larco, a professor in the School of Architecture & Environment, agrees. "We should be thinking of scooters as part of an integrated transportation system that includes a range of mobility options that can serve all of our needs," Larco says, "without having the expense, waste, and clutter from our cars."
Scooters are slowly changing Eugene's cityscape, and also the minds of its university students and residents. Could this better future also be fun? It looks that way, with or without a baseball card making simulated putt-putt-putt sounds.
Don Kahle was a columnist for the Eugene Register-Guard for two decades. Read the archive at www.dksez.com.
E-scooters are part of a one-year pilot being conducted by the city of Eugene. The pilot reached the six-month mark at the end of September and the city has a survey out for feedback. The university community can weigh in.