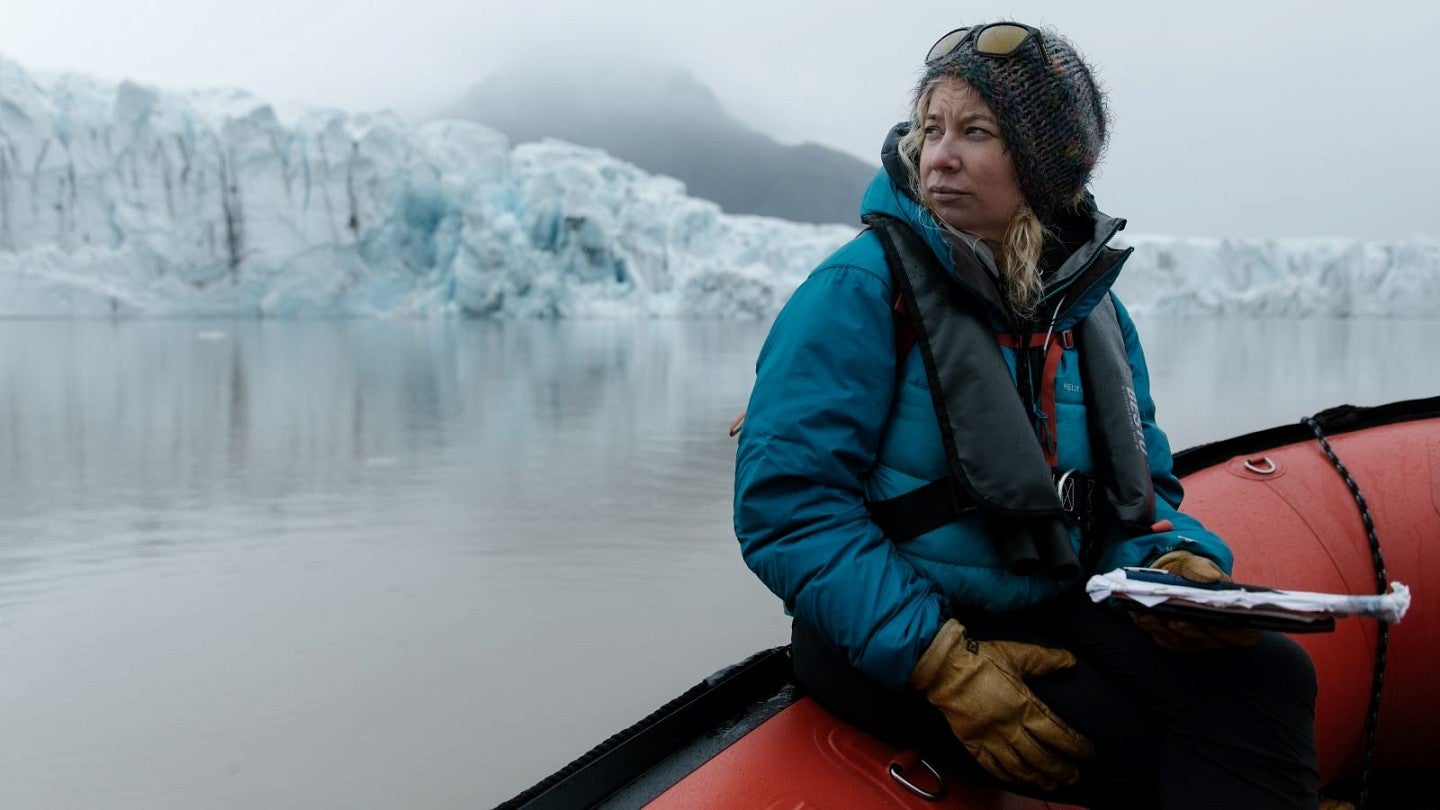 Breaking the Ice
In her first novel, glaciologist M Jackson tells the story of four women and the fierce fight for survival
By Lauren Hodges • Photo by Jake Dyson • May 11, 2023
5 min read
As a scientist, alumna M Jackson had never considered writing fiction because, she says, it was outside what a "traditional" scientist would do—never considered it, that is, until that belief was challenged by a mentor.
In her debut novel, The Ice Sings Back, Jackson tells the stories of four women and their struggles, against the backdrop of the Oregon Cascades. The characters include a mother who enjoys hiking with her young daughter, a data scientist and daughter of a rugged outdoorsman, a newbie medic trying to navigate her position at a fire department, and a scientist working at a remote research station. These women's lives are seemingly unrelated but closer inspection reveals the intertwined nature of their stories.
"I wanted to write a story about women from their perspective and I wanted to tell a bigger story, but I didn't want to presume that every individual [in the novel] would ever know all the pieces of the story. Hopefully the reader comes away knowing more of the story than the characters," says Jackson, who earned her doctorate from the College of Arts and Sciences' Department of Geography in 2017.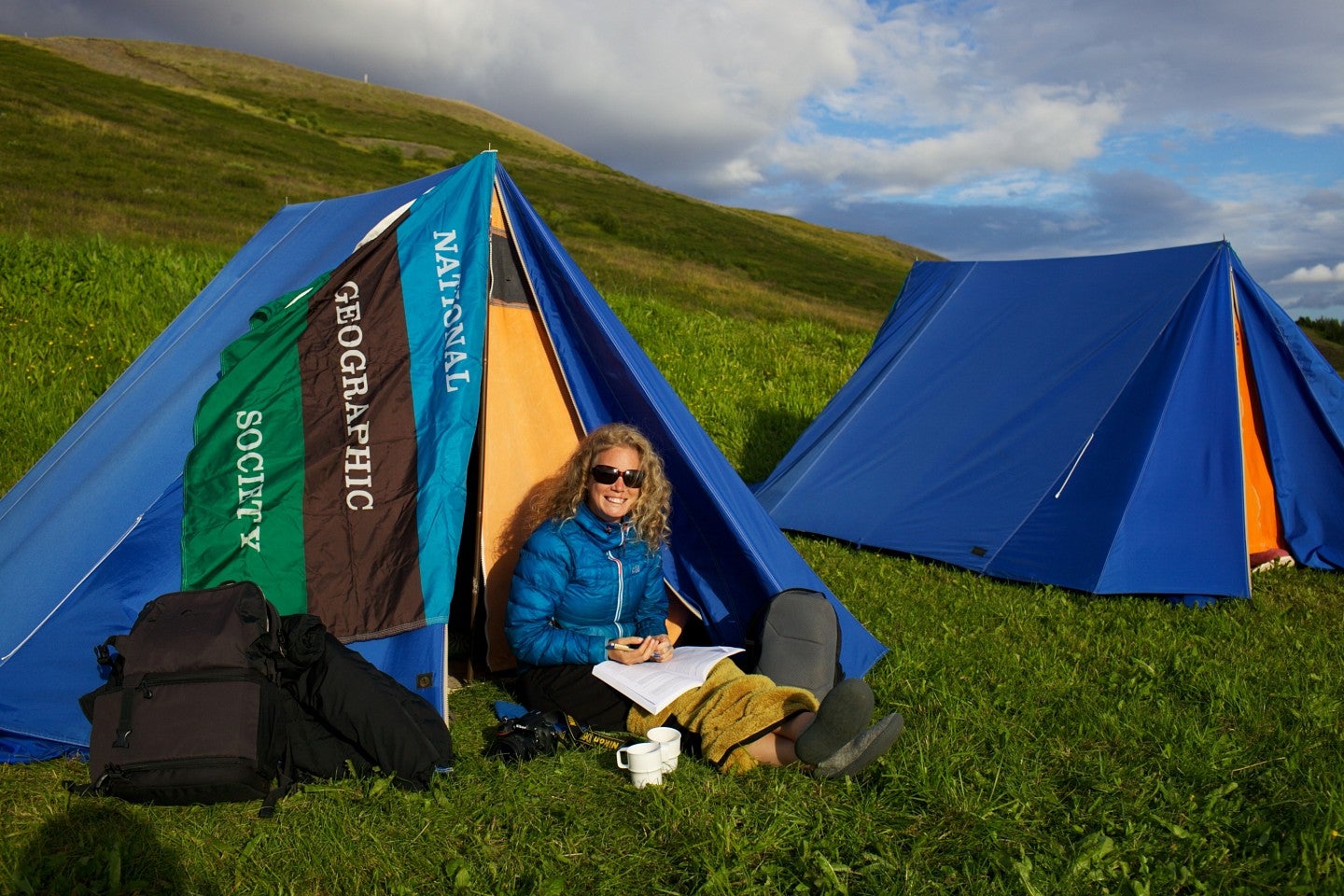 Inspirational women, a glacier that speaks
Jackson has a long track record of engaging the public with science.
She is a TED Fellow, a three-time US Fulbright scholar, and a National Geographic Society Explorer, receiving funding from the organization for her work. She's become more of a household name for her role in the Netflix show, Pirate Gold of Adak Island.
Releasing a novel was but the next rational step.
When Jackson was the Kittredge Visiting Writer at the University of Montana in 2019, she met with novelist Debra Earling. Earling asked Jackson, "What about the power of fiction in storytelling? In science? What happens if we put amazing science in fiction?" That realization set off a spark in Jackson and she began her journey into the world of fiction.
Jackson's inspiration for the book comes from the female scientists in her life. It was freeing and extraordinary, she says, "to take bits of these amazing women's stories and flesh it out into a conversation, and then flesh it out into a story."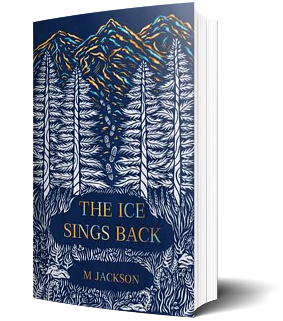 The Collier Glacier, which is situated on the west slope of North Sister in the Three Sisters Wilderness east of Eugene, is a main character in The Ice Sings Back, as both an object of scientific study and a personable being that expresses emotions and communicates with the women. This inspiration came from Jackson's own experiences. As a National Geographic Explorer, Jackson has visited glaciers around the world, but she didn't want to write a book about just the science of them.
"We—glacier scientists broadly—have done a really good job at studying ice," Jackson says. "What we don't have is the business of you and me connecting to a glacier."
Given that humans find understanding in stories, Jackson follows the long tradition of packing science into entertaining storytelling. She also incorporates themes such as risk assessment—both situational and personal.
"I put risk assessment in there because to me that term is the most catch-all for this business of being a woman," Jackson says. "I wanted to show some variety of keeping yourself safe because this is part of being a woman in today's world. It's been part of being a woman in the world for quite a long time."
Toppling barriers in science
Jackson also populated her novel with the kind of people she wants to see welcomed in science, though they may not currently be well represented.
"I want a book where scientists can be women, can be people who are questioning their heritage, can be people who are Black, can be people who are Asian, can be a range of diversities," she says. "All the books I write"—she described her previous works as nonfiction science—"have that element because that's what I want for science. That's how I want to change science."
"I wanted to show some variety of keeping yourself safe because this is part of being a woman in today's world."
In a recent episode of the podcast The Duck Stops Here, Jackson spoke about her experience with science and what she hopes science will look like in the future. Her discussion with Hollie Smith, associate professor of science and environmental communication in the School of Journalism and Communication, highlights the difficulties of being a woman in science and how to break through the barriers blocking what science can be.
Communicating science through story has opened up a new path for Jackson. She plans to publish two more novels about science over the next three years.
"There are all these different ways to communicate science," Jackson says. "For me, I don't know if I have a limit. I get to communicate science by writing nonfiction, fiction, and academic papers. By being the lead scientist on a Netflix show. By being a climate and energy host for Crash Course [an educational YouTube channel]. By being a public scientist for National Geographic. By giving public talks and by going to classrooms and interacting with people.
"If we want to actually change what science looks like, maybe it's not an issue of hiring new scientists who will just replicate what has happened before," Jackson says. "Maybe we need to dream entirely differently."
Lauren Hodges, an environmental science major and member of the class of 2024, is a staff writer for the Office of the Vice President for Research and Innovation.